Travel
Plitvice Lakes National Park Seasonal Highlights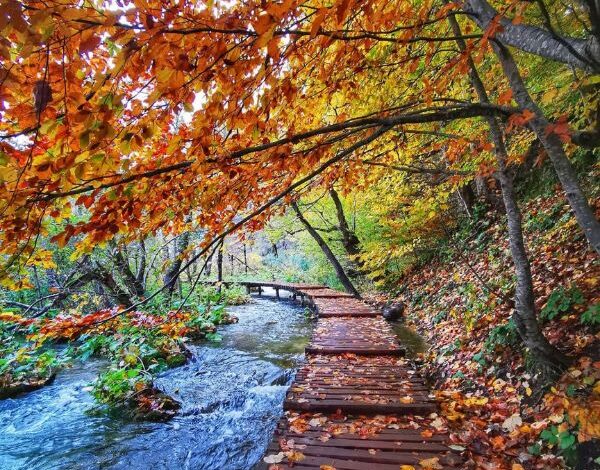 Plitvice Lakes National Park is one of the most beautiful national parks in the world and an absolute highlight of any trip to Croatia. With 16 cascading crystal clear lakes and an abundance of flora and fauna, it is truly a natural wonder like no other.
A walk through Plitvice Lakes Park is a treat for all the senses, whatever the season or weather. A great place to visit all year round, it's sure to enchant thanks to its gorgeous lookouts and picture-perfect waterfalls. Each season has its own inspirational charm and tells its own story full of colors, sounds, breathtaking scenery and life happening around you.
spring awakening
When the trees start to turn green again, nature wakes up and so does Plitvice Lakes National Park. In spring, enjoy the fresh air, warm sunshine, colors and sounds, move your body and enjoy what nature has to offer. Take a walk in the park while feeling the breath of spring and awaken the nature inside you. With slightly longer days and nicer weather, spring is the perfect time for a quick break before summer vacation.
With the onset of spring, the Upper Lakes open up, allowing you to experience all 16 beautiful lakes and enjoy the scenery hidden in greenery for much of the year. This is also the time when hibernating animals begin to wake up. In spring, animals such as the protected brown bears, symbols of Plitvice Lakes National Park, recover enough energy to return to us. The lush surroundings and the first flowers of the season awaken and enchant every visitor. As you walk along the boardwalks by the lakes and waterfalls, which have been colored by the sunlight after winter, you can truly feel the story of spring told by the ancient forest. Spring is also the time when our parks traditionally celebrate birthdays, so we have a variety of promotions for our guests.
enchanted summer
The green oasis of Plitvice Lakes National Park attracts the most tourists in the spring, surrounded by green forests and captivated by its extraordinary beauty of crystal clear lakes, murmuring streams and splashing waterfalls. fascinates Summer weather in the Plitvice Lakes is very pleasant, with ideal temperatures for a pleasant walk in the park. In the summer, countless activities take place in the park. There are several routes for visitors to choose from, including his two trails for hiking enthusiasts, and wooden rowing boats are available for rent for visitors who want to explore Lake Kozjak on their own.
Composed of 16 beautiful lakes, the Streaming Falls, the largest of which is Lake Kozjak, will intrigue any visitor. The Upper Lakes are made up of 12 connected lakes, while the Lower Lakes Canyon has his four lakes separated by travertine barriers. Crystal clear blue water, chirping birds, lush summer vegetation, and gorgeous waterfalls ensure that visitors enjoy every moment spent in the park. Waterfalls are a soothing and relaxing sight for nature lovers. In summer it is especially interesting as the water in the lake changes from hour to hour. Viewed from the shore, it changes from pale blue to sheer turquoise. This natural phenomenon is very special thanks to its mineral-rich clear turquoise and emerald colored water.
The park has plenty of shade. If you need a break, stop to cool off under lush trees or beside one of the many waterfalls. The long roads surrounding the lake and through the woods invite all visitors to experience the charm of pristine wilderness and spend their summer holidays away from the chaos of everyday life.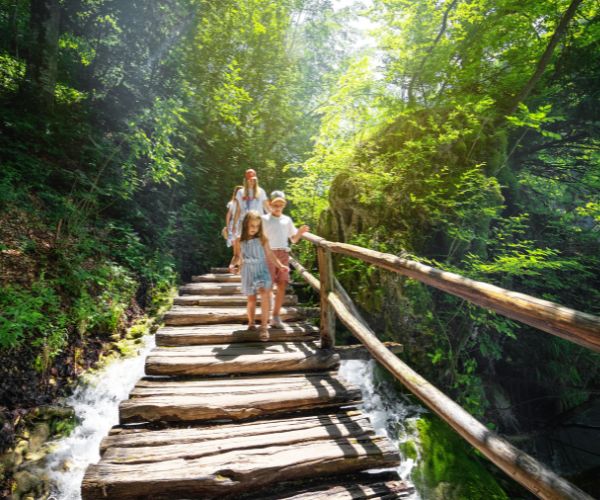 Autumn leaves rhapsody
The summer season ends with the first autumn winds. When autumn arrives, its colors are more special than any other season. The first rain marks the beginning of the road to winter, so don't be discouraged. A magical spectacle of colors and shapes makes this season even more special. Many people say that autumn is their favorite season. The hot summer days are over and the temperatures are finally starting to cool down a bit and make us feel comfortable. Where can you make the most of days like these? In nature, of course. Let's walk along the path while listening to the rustling of the trees and feeling the relaxed atmosphere. The trees appear to be full of flowers, changing color from yellow to red and finally brown. Fluttering leaves weave a new carpet on the ground, giving us a new view of the lake through the treetops. This season is special and you can visit both Upper and Lower Lakes. Given that most visitors use their vacations for the summer holidays, this can be a unique opportunity to plan your visit for the fall, when fewer visitors are expected. .
Wildlife is still alive. We slowly say goodbye to the migratory birds as the industrious squirrels stockpile for the winter, while the resident squirrels stay with us, singing more of their favorite songs. will give you
Nature reminds us that change always brings something good and that life can be enjoyed regardless of the season. Rain can ruin your mood, but with each rain the waterfall smiles back and reveals itself in all its glory. We are sure you will be impressed with how big they grow and show off their awesomeness. The sounds of nature and unique scenery will relax you and transport you to a whole new world, a world full of magic. It's the perfect opportunity to take amazing photos that will forever remind you of your time spent in one of the world's most beautiful parks.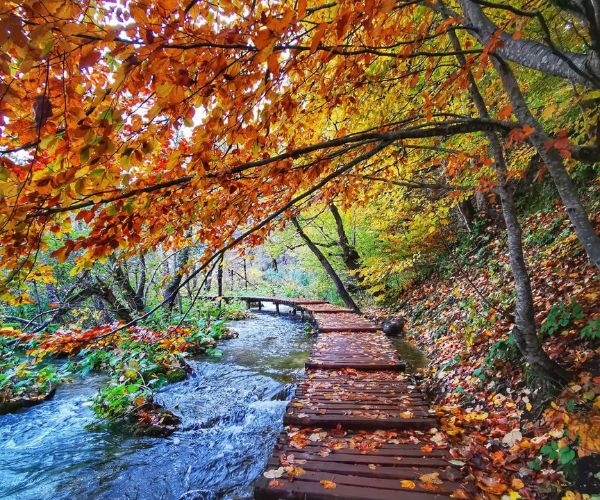 winter wonderland
Winter reminds us to slow down and that everyone, including the planet, needs rest. Strolling through the frozen landscape is truly something special. The crunch of snow underfoot and the silence around you is an indescribable delight. Winter in Plitvice Lakes National Park has many different faces, and whether you choose a time when everything is covered in snow and ice or when the lakes are completely flowing, they are all worth a visit. Most lakes are closed in the winter, but you'll never regret a visit to Lower Lake. Gentle and unique snowflakes falling on waterfalls, lakes and forests transform the landscape into a true wonderland. In winter, magical nature paints an amazing picture of sparkling snow.
Important Notices:
If you are reading this article outside of "Luxury Destination Magazine", this content may have been plagiarized without your permission.
Please take note of the above web address and contact Luxury Destination Magazine to inform them about this issue.
Thank you for your cooperation in preventing content theft.
If you want to experience the splendor of snow, be sure to visit the slopes nearby. With stunning views of the snow-capped hills, you can ski all day without worrying about visibility. Choose an activity, whether it's skiing or sledding, and recharge your batteries before returning to your daily routine. Relax and enjoy life and Croatia's oldest national park while breathing in the clear and crisp winter air on a wonderful lookout. Winter in the park can best be described as time spent in an oasis of calm. Surrounded by waterfalls and surrounded by forests, the blue lake forms an idyllic winter wonderland. Go for a relaxing walk, enjoy the snowy surroundings and experience this fantastic winter landscape. If you need to warm up, head to our restaurant for delicious, invigorating homemade dishes. The traditional Lička soup at the 'Lička kuća' restaurant is a must for every gourmand.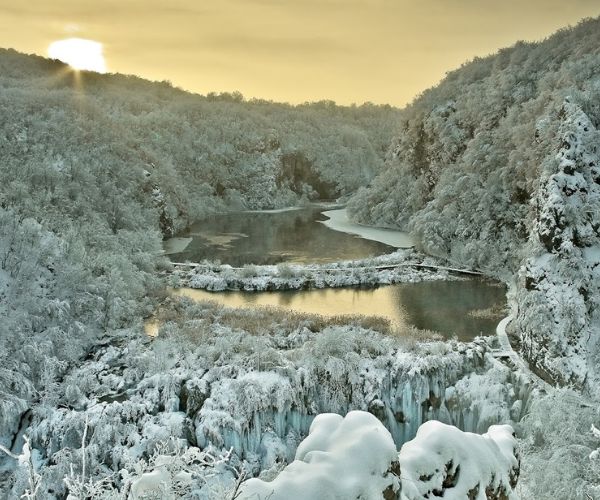 The picturesque landscapes, pristine nature and tranquility of numerous lakes reached by kilometers of boardwalks will take your breath away.
The park is open year-round and offers low-impact trails suitable for visitors of all ages. Be sure to visit Plitvice Lakes National Park and experience the four seasons.
Tomislav Kovacevic, Plitvice Lakes National Park. Plitvice Lakes National Park is the oldest and largest national park in Croatia.
If you would like to be a guest blogger on Luxury Destination Magazine to increase your visibility, please contact us.