The air is crisp, and the morning is brimming with excitement and possibility. As the sun dips behind the bushes, a unique energy envelopes you, defying description. However, exploring Africa goes beyond merely observing its magnificent wildlife.
Top luxury bathtubs to enjoy the relaxing views of Africa
During your African safari, you'll find numerous camps that offer opulent features like exclusive plunge pools, dedicated butler service, indulgent spa treatments, and lavish soaking tubs. Personally, I find the latter particularly enticing. With that said, here are some of the finest tubs in Africa that should definitely make it onto your list of must-visit destinations for a luxury African safari experience.
Somalisa Camp
Hwange National Park, Zimbabwe
Hwange National Park, with its impressive population of elephants, is an ideal safari destination for those embarking on their first adventure. Visitors will be treated to an abundance of wildlife sightings, set against the backdrop of expansive plains that seem to stretch endlessly. Nestled in the heart of the park lies Camp Somalisa, a haven where weary travelers can find solace and perhaps catch a glimpse of wildlife while luxuriating in a spacious bathtub. The bathhouses at Somalisa camps are a major attraction for travelers, thanks to their ample size and charming retro hunting theme.
Londolozi Granite Suite
Sabi Sand Game Reserve, South Africa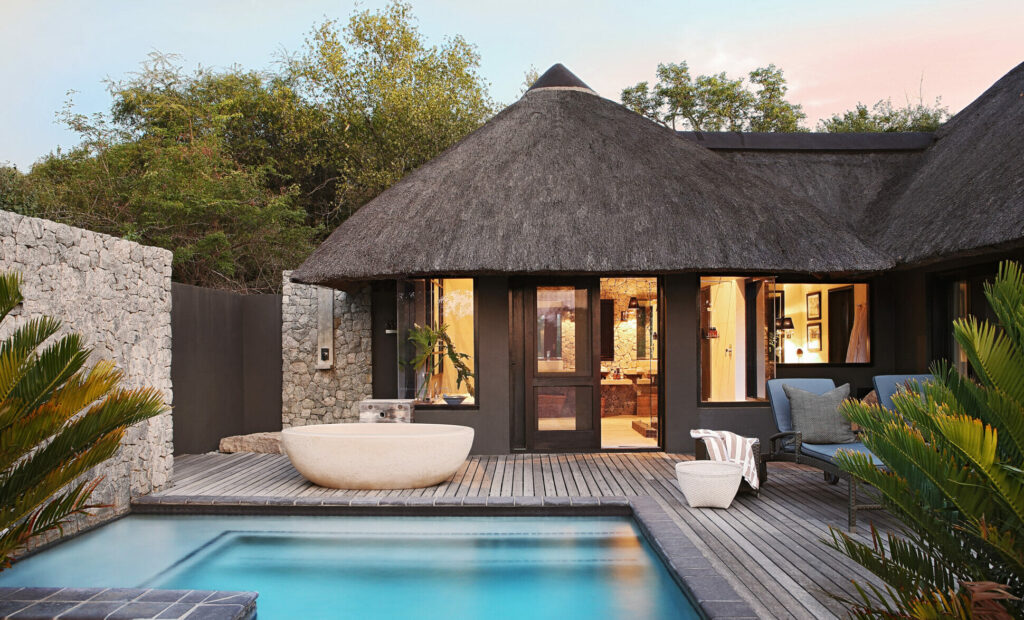 Next on the list is a lodge in South Africa that we absolutely love – the Londolozi in the Sabi Sand Game Reserve. The highlight of this lodge is undoubtedly the stunning granite suite, which is ideal for honeymooners and couples seeking a truly exceptional retreat during their African adventure. This suite boasts a private open-air bath with magnificent views of the river, as well as a trail frequently traversed by wildlife during the early mornings and late evenings.
Singita Sabora Tented Camp
Grumeti Game Reserve, Tanzania
Singita has a increasing quantity of tented camps across Africa, however, the one in Tanzania is the most impressive. After staying at three different camps, I can confidently say that Sabora Tented Camp is our top choice. This lodge possesses a delightful rustic appeal that effortlessly captures the essence of luxurious simplicity. Moreover, you will discover impeccably placed tubs throughout East Africa!
andBeyond Lake Manyara Tree Lodge
Lake Manyara National Park, Tanzania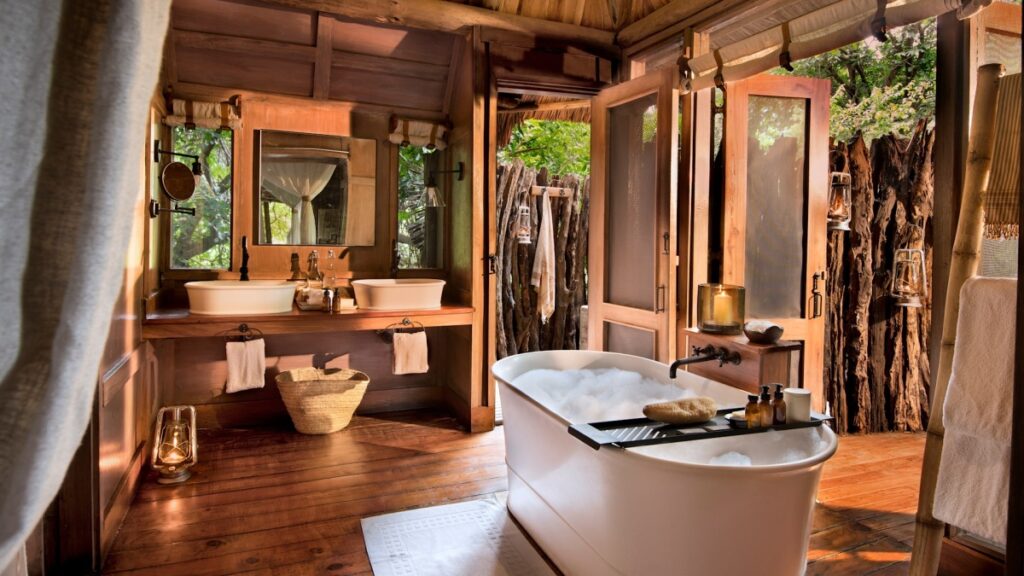 AndBeyond Manyara Tree Lodge is located within the beautiful redwood forests of Tanzania, making it an idyllic destination for nature enthusiasts. The lodge offers a unique experience, combining serene surroundings with huts built using natural resources. But that's not all – imagine the thrill of spotting a lion climbing a tree in its natural habitat! Yes, you heard it right. In addition to the captivating tree-climbing lions, you can also witness the mesmerizing sight of pink flamingos at Soda Lake and embark on a thrilling night safari. After a long day of wildlife observation, unwind and find solace in the peaceful ambiance while soaking in your spacious private tub. It's pure bliss!
Jonkmanshof
Montagu, South Africa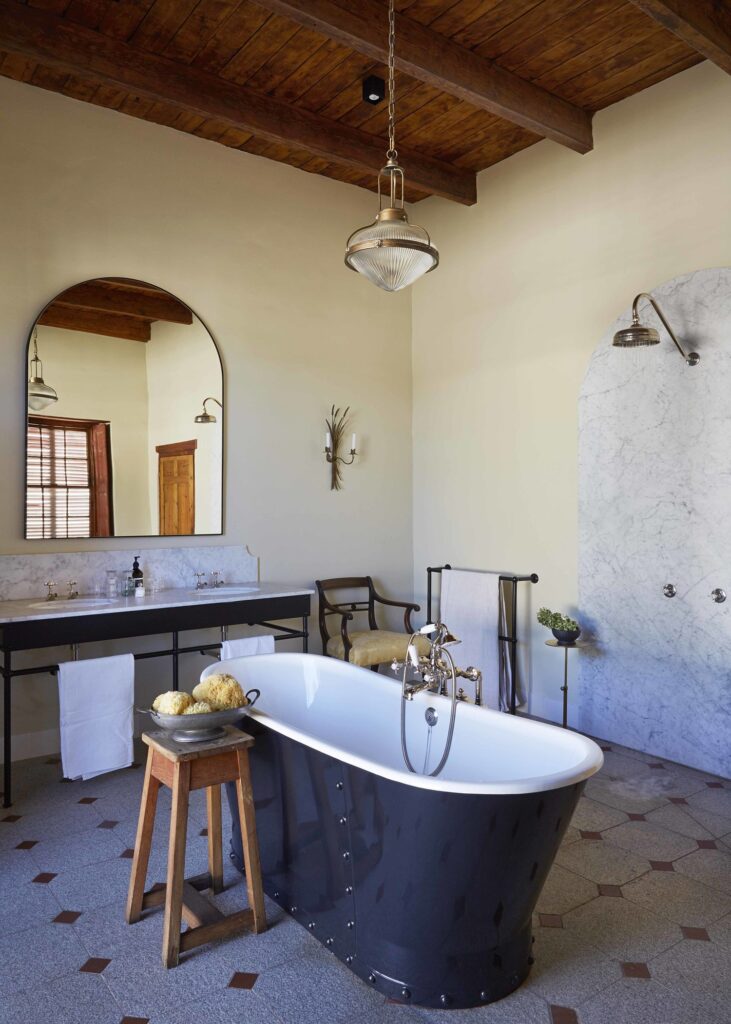 Although most of the bathtubs discussed in this article are located in the African wilderness, Jonkmanshof in Montagu stands out as an exception. Situated in the Western Cape, this hotel is a few hours' drive from Cape Town. Despite its small size, with just two rooms, the lodge offers a uniquely tranquil bathtub experience, with views overlooking a serene potted citrus garden.
Royal Chundu Zambezi Island Lodge
Victoria Falls, Zambia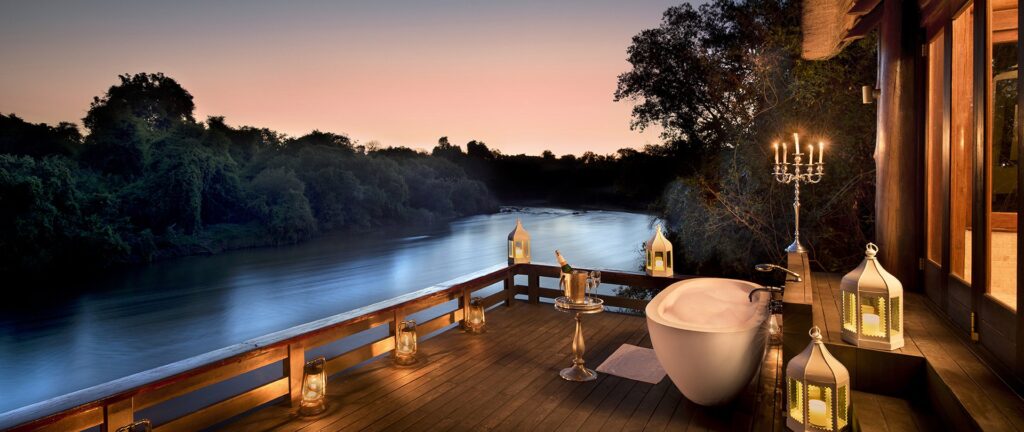 The team at Royal Chundu Zambezi Island Lodge has been recognized and celebrated for their exceptional service, making them well-equipped to cater to tourists. Furthermore, for couples seeking a lodge that embodies romance, this destination is truly outstanding. The outdoor bathtubs, offering breathtaking views of the Zambezi River, are an especially delightful feature.
Kwitonda Lodge
Volcanoes National Park, Rwanda
Rwanda has become highly regarded for its stunning resorts, making it a destination worth considering. The breathtaking scenery from the rooms at Kwitonda Lodge alone is enough to understand why Rwanda, known for its famous mountain gorillas, is rapidly becoming one of the top choices for tourists visiting Africa. The captivating beauty of the mountainous landscapes visible from the private bathtubs makes it difficult to leave the room.
Cottars 1920s Camp
Greater Mara, Kenya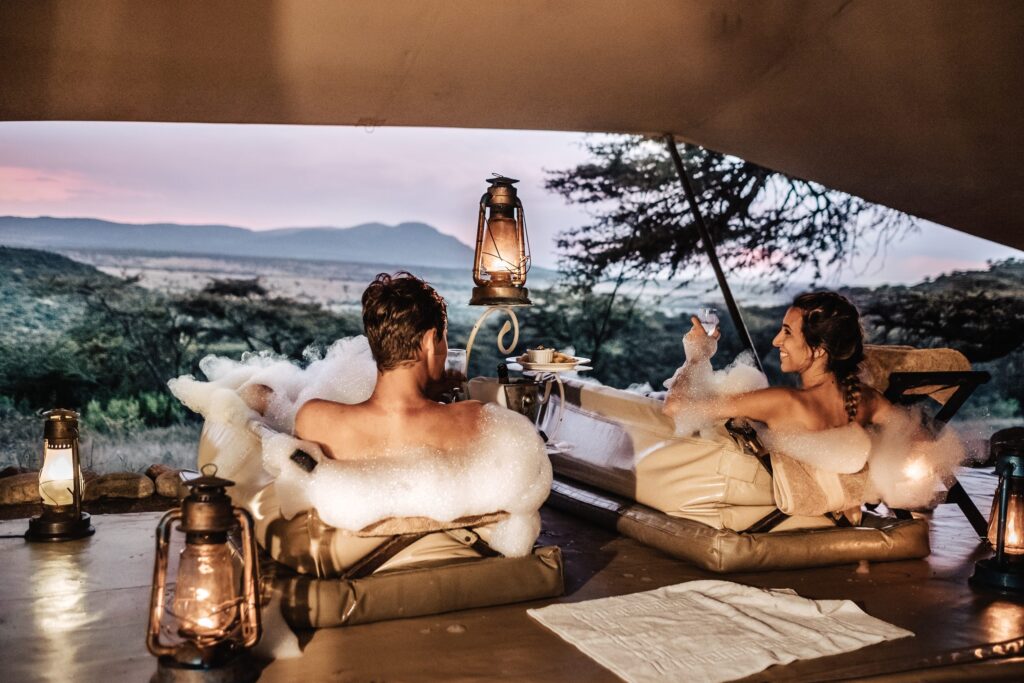 Cottars 1920s Safari Camp offers a unique and nostalgic experience that transports you back in time. Situated on a private conservancy bordering the Maasai Mara, this camp pays homage to the traditional safaris of the 1920s. By immersing guests in the history of conventional safaris, Cottars ensures an authentic and memorable stay. The camp's attention to detail is exemplified by their exceptional offerings, such as the traditional bush baths (pictured above), which exceed expectations and add to the overall experience.
Angama Mara
Maasai Mara, Kenya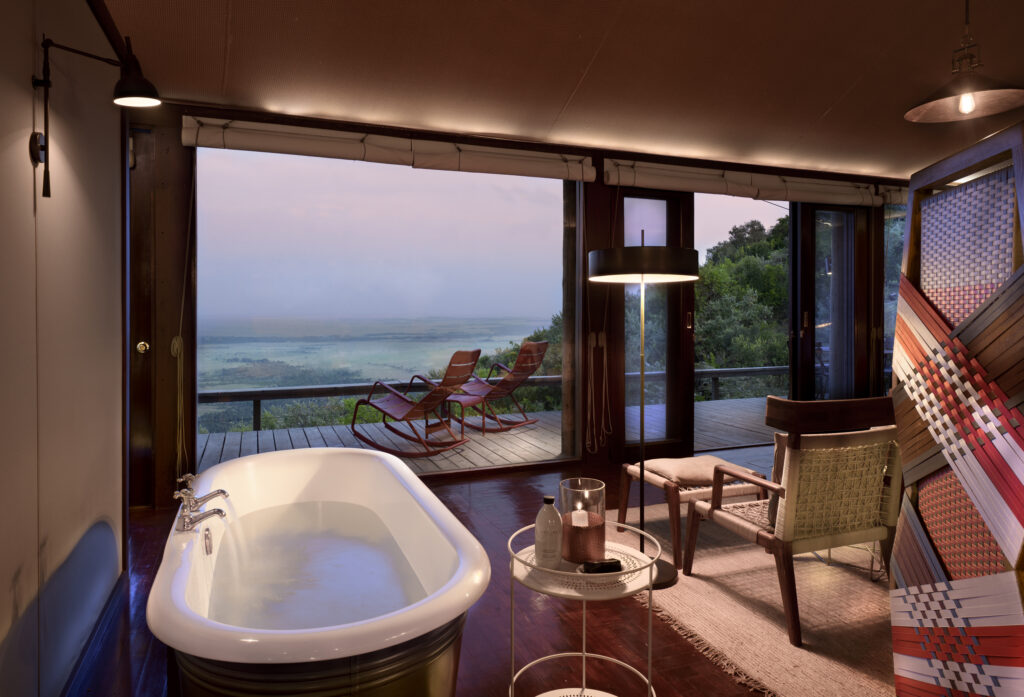 Angama Mara, a recently established lodge in the Maasai Mara, made a grand entrance by perching on a hilltop with a stunning vista of the National Park below. Since its opening, this lodge has risen in popularity and is now considered one of the most coveted destinations in East Africa. Its growing reputation substantiates the initial excitement surrounding its debut. The individual tents at Angama Mara offer unobstructed views of the Mara below and are equipped with spacious bathtubs.
andBeyond Phinda Rock Lodge
Phinda Private Game Reserve, South Africa
Located within the Phinda private game reserve, there are a couple of lodges to choose from. However, none can compare to the uniqueness of Phinda Rock Lodge. This lodge provides an incredibly authentic experience for its visitors, and the outdoor bathtubs are a prime example of this. If you happen to be staying for a short period of time, be sure to pass up one of the afternoon game drives and instead relax in your bathtub while enjoying the captivating display of nature.
Jacana Camp
Okavango Delta, Botswana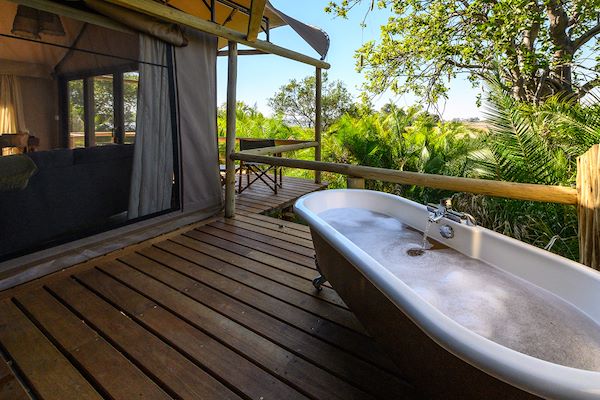 In the Okavango Delta, you will find a multitude of safari camps, but most of them are quite small, typically offering only one or two rooms. This contributes to the unique and peaceful atmosphere of each lodge, as they all strive to provide something different for their guests. One camp that stands out from the rest is Jacana Camp, and they have achieved this distinction with their private outdoor bathtubs. This exceptional feature is what earns Jacana Camp a spot on our list of the best bathtubs in Africa.
Singita Boulders
Sabi Sands Game Reserve, South Africa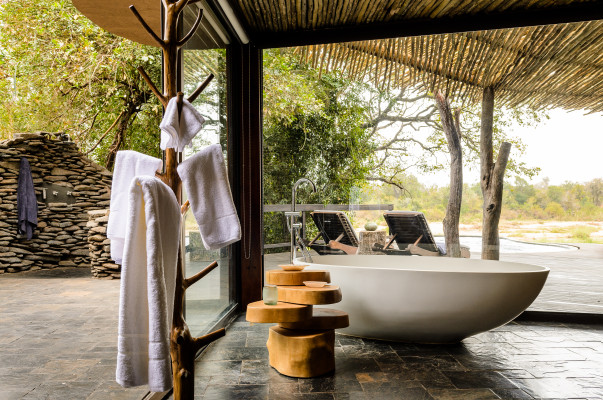 Finally, in our compilation of the most efficient bathtubs on the continent, it is essential to mention Singita Boulders in Africa. This lodge happens to be one of my personal favorites due to its wildlife viewing opportunities, lodge design, and spacious yet intimate rooms. Each room features a large bathtub situated on your private deck, where it is not uncommon to witness elephants quenching their thirst. This is an incredibly unique experience and serves as one final incentive to plan your journey to Africa.