Resorts
Top Luxury Resorts in Costa Rica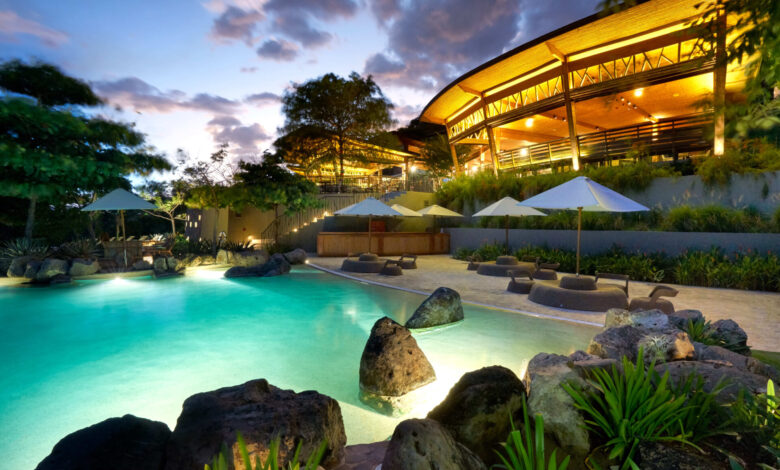 Have you ever dreamed of escaping the hustle and bustle of everyday life and indulging in a luxurious vacation surrounded by lush tropical landscapes and secluded beaches? If so, then Costa Rica might be just the place for you. This stunning Central American country boasts some of the most awe-inspiring natural beauty in the world, from cascading waterfalls and dense rainforests to vibrant coral reefs and untouched wild beaches. Whether you're a thrill-seeker looking for an adventure-packed holiday, or simply seeking to unwind in the lap of luxury, there's something for everyone in this beautiful country. In this blog post, we'll explore some of the best luxury vacation destinations in Costa Rica, and why you should consider this paradise on earth for your next vacation.
Costa Rica: A Biodiverse Tropical Paradise
Costa Rica is a tropical paradise that has been growing in popularity amongst luxury travelers in recent years. The country boasts a biodiverse landscape that includes 29 national parks, 19 wildlife refuges, and 8 biological reserves. This focus on preserving natural habitats and wildlife has made Costa Rica a prime location for eco-tourism. However, in addition to its natural beauty, the country also offers a variety of high-end accommodations that cater to luxury travelers. From upscale resorts and boutique hotels to private bungalows and tree houses, visitors can find their perfect slice of paradise in Costa Rica. With a focus on personalized service and attention to detail, each experience is curated to suit the traveler's preferences.
One such example of luxury in Costa Rica is the Los Altos Resort and Spa. Tucked away in the rainforest near the Manuel Antonio National Park, guests can wake up to the sounds of howler monkeys and enjoy sweeping views of the rainforest and sea from their spacious suites. With kitchens and lounging areas, the resort is perfect for groups or families. Visitors can enjoy a variety of activities, including a day at the private beach, a chef-hosted dinner on their balcony, or a relaxing dip in the infinity pool. Another option is the El Silencio Lodge & Spa, located in the picturesque Bajos del Toro. This private cloud forest reserve is the only luxury resort experience in the area, and its commitment to sustainability and holistic tourism allows visitors to enjoy the stunning natural surroundings while preserving them for future generations.
For those looking to disconnect from technology and immerse themselves in nature, the Pacuare Lodge offers the ultimate jungle experience. Accessible only by rafting down the Pacuare River or taking a gondola, the lodge features 20 sustainable suites built by local Cabécar people. Guests can enjoy farm-to-table cuisine and connect with the rainforest from their private terrace and spring-fed pool. Jungle treks and canopy tours offer opportunities to explore the lush environment. Whether seeking adventure or relaxation, luxury travelers will find their perfect escape in Costa Rica's tropical paradise.
Costa Rica Luxury Resorts
Costa Rica is a country of lush nature, biodiverse landscapes, and diverse topography. The country's thriving ecotourism industry offers an array of exhilarating adventures, sun-drenched beaches, exotic wildlife, and sublime resorts and wellness facilities.
Los Altos Resort & Spa: A Restorative Nature Escape
Los Altos Resort & Spa in Manuel Antonio, Costa Rica offers a truly unique getaway for luxury travelers. Surrounded by pristine eco-wilderness and close to Manuel Antonio National Park, guests can indulge in nature-focused activities such as relaxing by the infinity pool or enjoying a chef-hosted dinner on their private balcony. The resort's three-bedroom residences have private elevator access, state-of-the-art kitchens, and offer plenty of space to relax after a long day. The staff at Los Altos is renowned for its attentive service and creating a home away from home atmosphere. Come and enjoy a perfect combination of nature and luxury at Los Altos Resort & Spa.
El Silencio Lodge & Spa: A Luxury Cloud Forest Experience
El Silencio Lodge & Spa is a five-star luxury resort located in the heart of Costa Rica's cloud forest. The resort offers sixteen eco-friendly villas, each with a private deck with stunning views of the pristine forest and deluxe amenities. The Green Spa provides rejuvenating treatments with indigenous herbs and organic oils for an unparalleled level of relaxation. Guests can also enjoy many recreational activities including guided hikes, horseback riding, bird-watching, and tours to nearby waterfalls. The lodge also offers exquisite traditional and contemporary Costa Rican cuisine, using only locally sourced ingredients. El Silencio Lodge & Spa offers an experience of relaxation, adventure, and world-class service surrounded by the natural beauty of the cloud forest.
Pacuare Lodge: A Jungle Retreat for Tech Detox
Pacuare Lodge is an eco-friendly luxury retreat in Costa Rica, situated on a lush hillside overlooking the Pacuare River. It features120 solar panels, two hydroelectrical turbines, and no air-conditioned rooms to maintain a sustainable and environmentally-friendly approach. Guests can arrive by white water rafting, and land transportation as well as helicopter transfers are available. The resort offers 3767-square-foot Jaguar Suite, 2500-square-foot villas, and 980-square-foot Canopy Suites, each with private terraces and breathtaking views of the jungle and river. It has a bar, massage rooms, gardens, wildlife observation decks, an infinity pool, and adventure activities such as kayaking, horseback riding, zip-lining, and rappelling. It is the perfect place to relax, unwind, and reconnect with nature.
Forbes Vetted Luxury Resorts in Costa Rica
Costa Rica is a popular destination for luxury travelers, offering seven exceptional resorts to choose from. From beach retreats and cloud-forest lodges to eco-luxury boutique resorts and zero-harm lodges, there is something to fit everyone's preferences. Guests can relax in tranquility and supreme luxury, horseback ride or milking cows, explore the rainforest or raft down a river, and enjoy farm-to-table organic cuisine and cultural experiences. All of these resorts aim to reduce their environmental impact and provide an unforgettable experience.
Andaz Peninsula Papagayo: A Relaxing Beachfront Haven
Andaz Peninsula Papagayo is an opulent oasis located along the untouched coast of Costa Rica. This award-winning paradise showcases the splendor of the rainforest with breathtaking views of Culebra Bay and 152 guest rooms, inclusive of 21 luxury suites. With many amenities available to visitors such as four restaurants, a spa, four pools, and three beaches to explore, Andaz is the perfect fusion of local character and modern comforts. The resort also provides a complimentary Cambi Kids Club, Arnold Palmer Signature golf course, tennis center, multiple restaurants, and transportation to and from the resort. On-site activities include wildlife watching, beach volleyball, swimming, kayaking, and more – all surrounded by a lush open-concept bamboo landscape. Whether seeking a tranquil retreat or an unforgettable Costa Rican experience, Andaz Peninsula Papagayo is the ideal destination.
El Mangroove: An Active All-Inclusive Resort
El Mangroove is a luxury resort located in Guanacaste, Costa Rica, ideal for travelers who want an all-inclusive experience. The resort features a variety of drinks and food, two restaurants, an events coordinator, and turn-down service. It also offers complimentary Wi-Fi, a fitness center, and plenty of beach chairs. While there are a few areas where the resort could improve, El Mangroove provides the perfect vacation spot for those looking for an active and extravagant break in Costa Rica.
Four Seasons Resort: One of the Best Costa Rica Luxury Resorts
Four Seasons Costa Rica is a peaceful retreat set in the exclusive Peninsula Papagayo, an expansive 2300 acre resort. With 155 guest rooms, suites and residences that feature local artwork, rattan and bamboo furnishings and indigenous wood and stone finishes, Costa Rica's exotic character is showcased throughout the property. Consisting of some of the country's best beaches and important wildlife reserves, the resort offers access to the Arnold Palmer Signature Golf Course with more resorts and facilities under construction. The natural sanctuary is surrounded by coastal dry tropical forest and miles of secluded beaches, with three swimming pools nestled in lush landscaping, and multiple restaurants, a spa, and a children's club at the resort. The 18-hole par-72 Arnold Palmer golf course provides breathtaking views of the natural surroundings, making Four Seasons Costa Rica at Peninsula Papagayo an ideal destination for adventure travelers, wellness seekers, culinary explorers, and culture enthusiasts looking for an eco-luxury experience.
Hacienda AltaGracia Auberge Resorts Collection: An Experience-Driven Luxury Retreat
Hacienda AltaGracia Auberge Resorts Collection is a luxurious retreat in the Talamanca Mountains of Costa Rica. It has over 180 acres of lush tropical forest, organic chef's gardens, and equine stables. Each freestanding casita provides luxurious amenities and breathtaking views of the countryside. Guests can take advantage of soul-stirring wellness journeys, adrenaline-packed adventures and mouth-watering culinary experiences through personalized itineraries. The resort also includes THE WELL, one of the world's leading holistic wellness providers, where traditional Costa Rican ingredients are combined with Eastern and Western methodologies. Additionally, guests can partake in unique culinary experiences, cultural activities, and explore the wilderness on horseback, by foot, or by air. To make access to the resort easier, complimentary shared domestic charter flights are available until September 18, 2023. Hacienda AltaGracia is a place to relax, restore, and find transformation through personalized luxury experiences.
Costa Rica offers many Luxury Travel Options and Exclusive Resorts
As you can see, Costa Rica is a beautiful country with a diverse range of attractions and activities. From rainforest to volcano and beach resorts, there are plenty of options for travelers to choose from. The best resorts in Costa Rica offer luxury amenities, great service, and stunning views that make for an unforgettable experience. Whether you're looking for a relaxing getaway or an exciting adventure, Costa Rica has something for everyone. With its lush landscapes, vibrant culture, and friendly locals, this Central American paradise is sure to leave you with lasting memories.
Check out this Gallery that includes magical places like Gulf of Papagayo, Santa Teresa, Uvita in Osa Peninsula, Arenal Volcano, other coastline destinations and lowland tropical rainforest.
Want to learn more about other exclusive resorts in Costa Rica? Follow us on Facebook, you will be able to red more about other rustic luxury options, casual luxury destinations, and many other hotels and resorts.