Resorts
Fall in Love! 7 romantic resorts in Vietnam
With paddy fields, undulating hills, pristine beaches, lush jungles, modern cities and French Colonial architecture, Vietnam is a lover of authentic culture, pristine nature, urban life and rich history. Is fascinated. Since Vietnam opened its doors to the tourism industry, the choice of boutique hotels and ultra-luxury resorts has grown rapidly, including well-known companies such as Six Senses, Aman and Four Seasons. From the south (Ho Chi Minh City) to the north (Hanoi), the topic of the place is clear. You need to add this country to your bucket list before you can be overwhelmed by tourists. Here are 10 of the best luxury hotels and resorts in Vietnam. These are one of the best hotels in the world.
1. AMANOI NINH THUAN
In 2013, Aman brought the brand's distinctive sophistication to Vietnam's debut resort, a contemporary beachside resort alongside the full-service Aman Spa. Named after Noi, which means "peace" and "place" in Sanskrit, Amanoi is quiet on a gorgeous golden sandy beach overlooking the magnificent Vinhai Bay in Nui Chua National Park, northeast of Ho Chi Minh City. It is a super luxurious hideaway. The sophisticated slate towers of luxury hotels peek out into the lush landscape. The infinity pool is flowing into the sea. And the spa is by a lake dotted with lotus flowers. Amanoi offers complete privacy with 31 pavilions, numerous private pools and beautifully designed accommodations in 5 Aman villas. All of these are located on the hillside with impressive views.
2. Six Senses Ninvan Bay
Six Senses Ninh Van Bay enjoys the magnificent environment of a dramatic bay that makes you feel like you are at a luxury private island resort in the East Vietnam Sea. Impressive rock formations, coral reefs, golden sands, playful streams and towering mountains all add to the luxurious sense of unity with nature. Spa resorts present the reality of your destination in an architectural style that incorporates Vietnamese traditions. All 58 great accommodations in Six Senses' signature eco-chic design are private villas with private plunge pools. Six Senses Ninh Van Bay's restaurant serves international and popular local dishes, as well as eastern and western dishes complemented by the finest local seafood.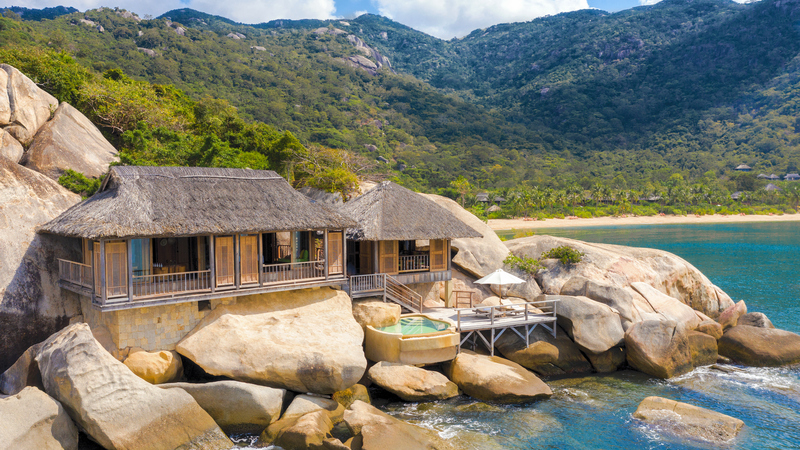 3. Four Seasons Resort The Nam High
Decorating heritage with a Four Seasons flair, Four Seasons Resort The Nam Hai is a harmonious ode to the coast, culture and community of Vietnam's UNESCO Cultural Center. Sophisticated and visually striking villas line the dramatic beachfront along a seemingly endless sandy beach that Forbes praises as one of the best beaches in the world. Inspired by 2,500 years of history, Nam Hai's architecture and interior design offers dramatic play in wind and water inspired by ancient Feng Shui philosophy and the grandeur of Hue's Tu Duc tomb. All 100 private retreats are elegantly finished with Vietnamese lacquer and sheer silk, reflecting the soul of the cultural center of Vietnam and illuminating the spirit of all who visit.
4. Six Senses Con Dao
Faithful to Six Senses' philosophy of choosing remote yet accessible destinations in Area of ​​Outstanding Natural Beauty, Con Dao – 40 minutes by plane south of Ho Chi Minh City – is a breathtaking place and national ocean. It has been protected as a park for decades. .. Six Senses Con Dao is the only five-star resort on the islands of the archipelago, set on a vast private beach with spectacular views of the islands against the backdrop of the dramatic backdrop of the Lovoy Mountains. The intimate all-pool villa resort has a contemporary design that reflects the essence of a traditional fishing village. Spa and dining options are world class. Con Dao is committed to supporting and protecting the environment and is built with a very light ecological footprint. After spending a vacation here, it will be very difficult to return to "real life".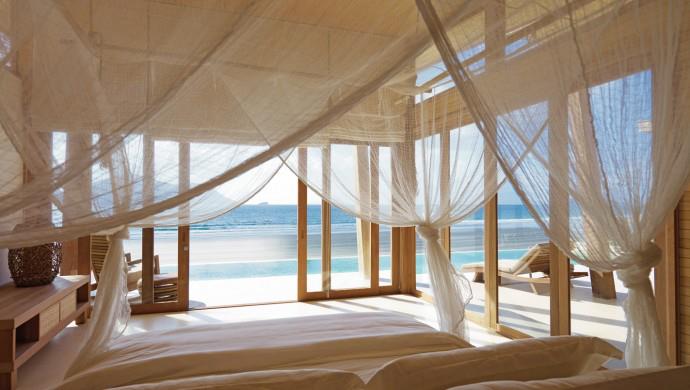 5. ZANNIERHOTELSBיISAN HÔPHUYEN
Immerse yourself in Vietnam's rich history and traditions at 245 acres of nature and beachfront resorts on a remote peninsula in Phu Yen province. Choose from a collection of 73 independent villas, ancient paddy fields, lush hilltops, or a mile-long powder-white beach for a private setting. Three unique dining experiences, expansive Hoa Senspa and tailored excursions continue the cultural adventure.
6. Regent Phu Quoc
Regent in the tradition of luxury hotels and resorts for almost half a century, Regent Phu Quoc is a new definition of luxury beachfront resort in Vietnam. Surrounded by the white sands of Long Beach, the all-pool villas and suites resorts are a tranquil paradise awaiting discovery by brave, discerning and curious travelers from around the world.
7. BANYAN TREE LANG CO HUE
Located in central Vietnam, Banyan Tree Lang Co is an ultra-luxury beachfront all-pool villa resort with dramatic views throughout the rugged landscape. Here you can feel the warm waves of the East Sea tickling your toes and look up to see the magnificent expanse of the Chuonson Mountains. Cultural enthusiasts will be delighted to see the three UNESCO World Heritage Sites of the Hue Royal Palace, the charming Old Town of Hoi An, and the historic ruins of my son. Those who are physically devoted will also be delighted with the wide range of activities. Golfers can tee off stylishly on Nick Faldo's 18-hole championship golf course, winding rice fields and streams against the backdrop of stunning mountains.