Hotels
11 cool accommodations where you can stay in Moab, Utah
The compact Utah city, the gateway to Arches National Park and Canyonlands National Park, is the place for most adventurous people to stop and stay before exploring the most beautiful red rock landscapes on the planet. Are you traveling to Moab, Utah? we have some options for you!
Best places to stay in Moab, Utah
1. Castle Valley Inn
Sitting in a beautiful green oasis, surrounded by the towering red rocks of the familiar Moab, Castle Valley Inn Offers a quiet and relaxing life with a wonderful bed and breakfast stay and easy access to the famous Moab attractions.
Family-friendly inn surrounded by breathtaking views.
You can enjoy the best time just by watching the flow of the day from the comfort of the hammock and the garden hot tub that heals the tiredness of the day while watching the starry sky from the clear sky. Moab at the front door at a relaxed pace.
2. Expedition Lodge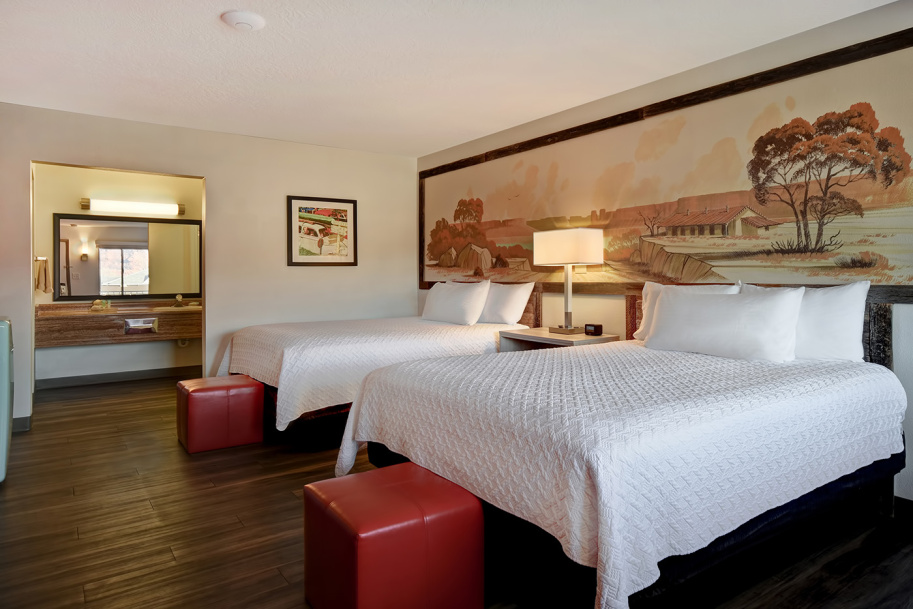 An eclectic retro motel with stories on every wall and room. Expedition Lodge Surrounded by the red rocks of Moab, it is the perfect place to stay when exploring this fascinating area. When I arrive, I know this is a little different. A full-sized jeep hanging under the hotel sign welcomes you at a height of 15 feet, and things continue from there.
Smart and bright decorations provide comfort and style to your room. The highlight is the Voyager room, with two queen-sized bunk beds providing an unusual sleep for eight. The entire hotel is mountain bike compatible, so if you're here to enjoy the trails, it's a great place to stay knowing that your bike is safe in your room.
One of Moab's most popular motels that also welcomes pets
Expedition Lodge, made of recycled wood, is an evolving story written by people passing by, near major trails and visitor spots. If you need something a little different, the Expedition Lodge is for you.
3. Red Cliffs Lodge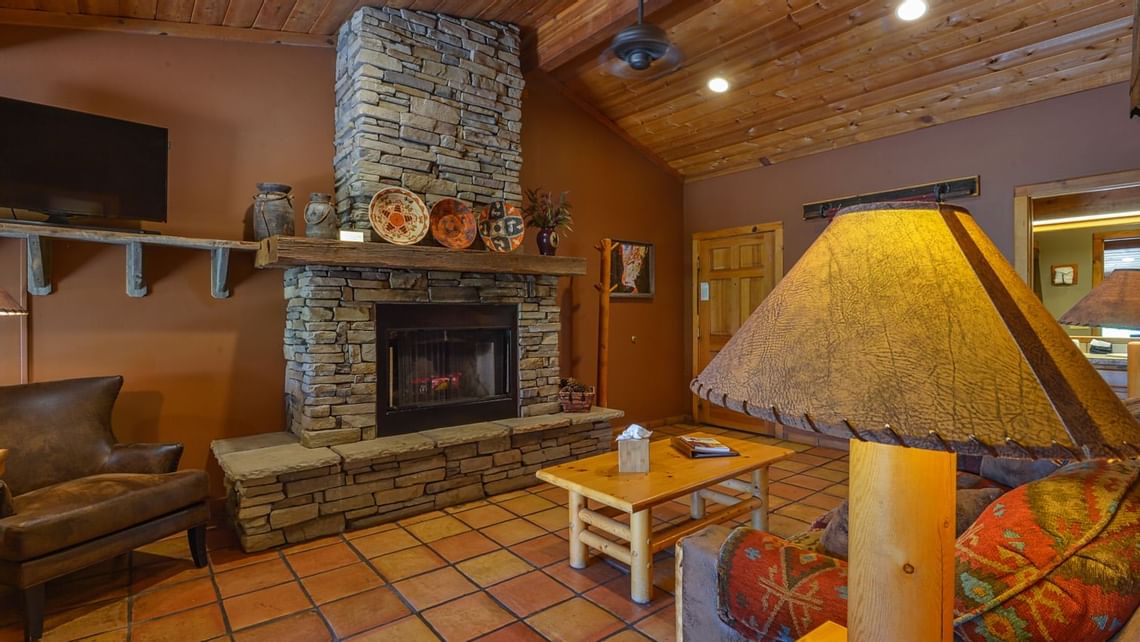 If there was a hotel that was not ashamed of its name, Red Cliffs Lodge Is that …? Sitting on the banks of the Colorado River itself, behind a wooden hotel is a 2,000-foot-high red cliff and a lodge that surrounds it.
Choose a hotel suite or stand-alone cabin to get the Moab experience you want in this flexible accommodation. Whichever you choose, the rustic atmosphere and comfortable environment will make you feel adventurous.
A rustic and exceptional resort with a Western Film Museum and Castle Creek Winery
On-site facilities include a Western Film Memorial Museum, torrents, tennis courts, and swimming pools, with easy access to the best hiking and cycling trails. If you want to feel part of the rugged Moab environment and enjoy all the comforts of your home, there's nothing like Red Cliffs Lodge.
4. Rim's hideout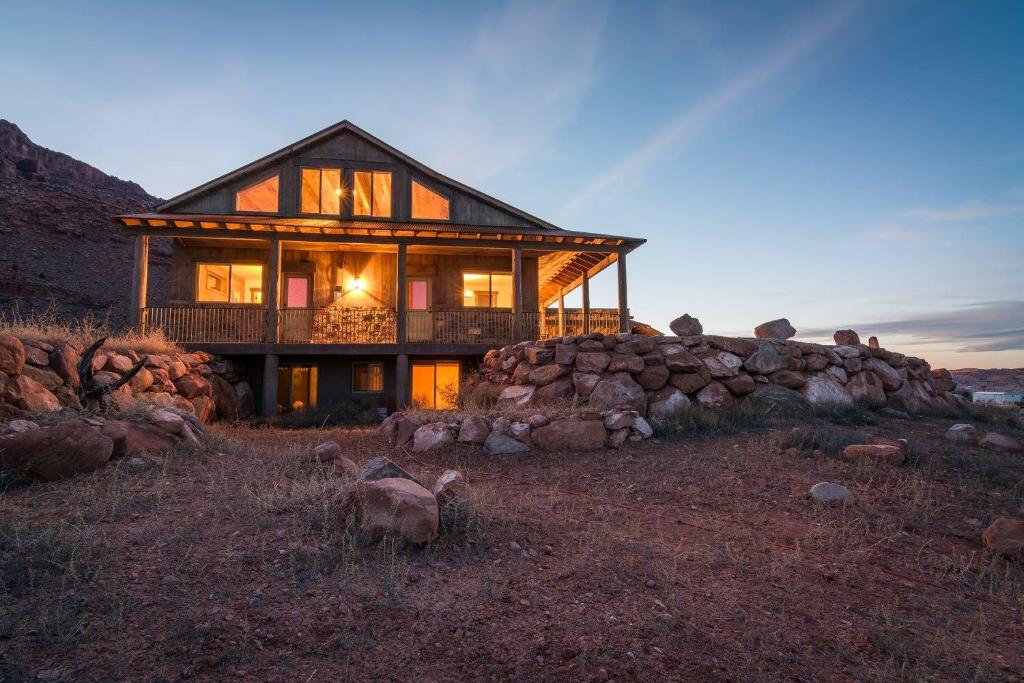 Just 17.4 miles from the incredible Mesa Arch, it's hard to find a place to embody the moaning experience. Edge hideout. With a rustic look and a homely atmosphere, this hotel in Moab is perfect for everywhere.
Charming, unique, rustic, and chic B & B surrounded by beautiful scenery
With hiking and cycling trails nearby, this hotel understands the market. Comfortable and cozy rooms are the perfect place to rest your tired body after exploring the majestic paths. With little outside light, it's a great place to see the stars at night.
5. Gonzo Inn Hotel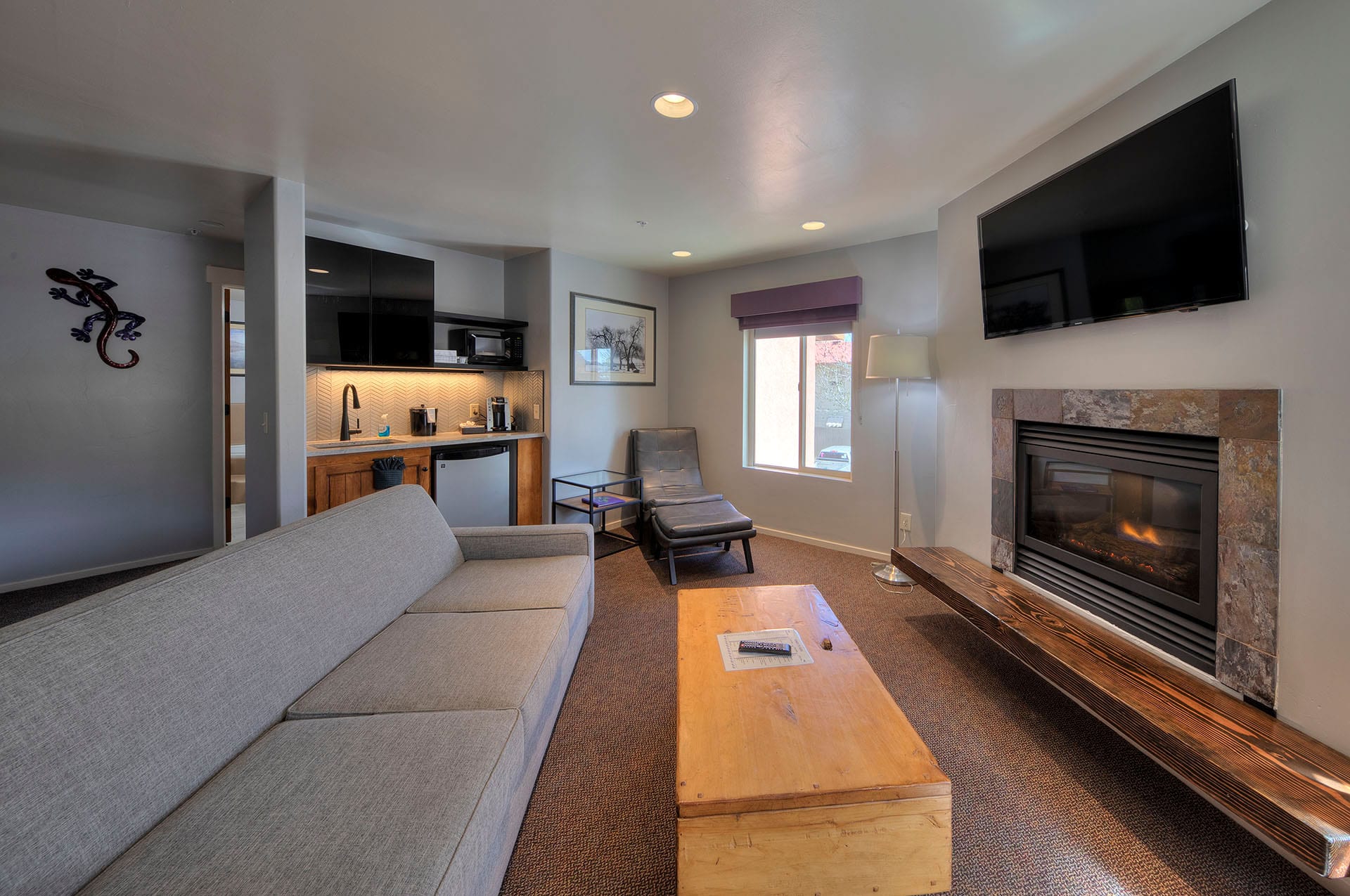 A boutique, condo-style hotel that brings a chic desert to the heart of town, just 800 meters from Trailhead. Choose from discreet luxury, bike-friendly amenities, a repair station, and rooms that provide everything you need for relaxation after a day of adventure. Gonzo Inn is Unique and unforgettable, a great place to stay in Moab.
A charming boutique hotel with an unparalleled desert chic atmosphere
Salt pools are great for evening swimming, but hot tubs can relieve tired muscles. Alternatively, it's your style to have a drink around the outdoor rush fireplace. If you want to stylishly incorporate the laid-back atmosphere of Moab, Gonzo Inn has everything you're looking for.
6. Hoodou Moab, Curio Collection by Hilton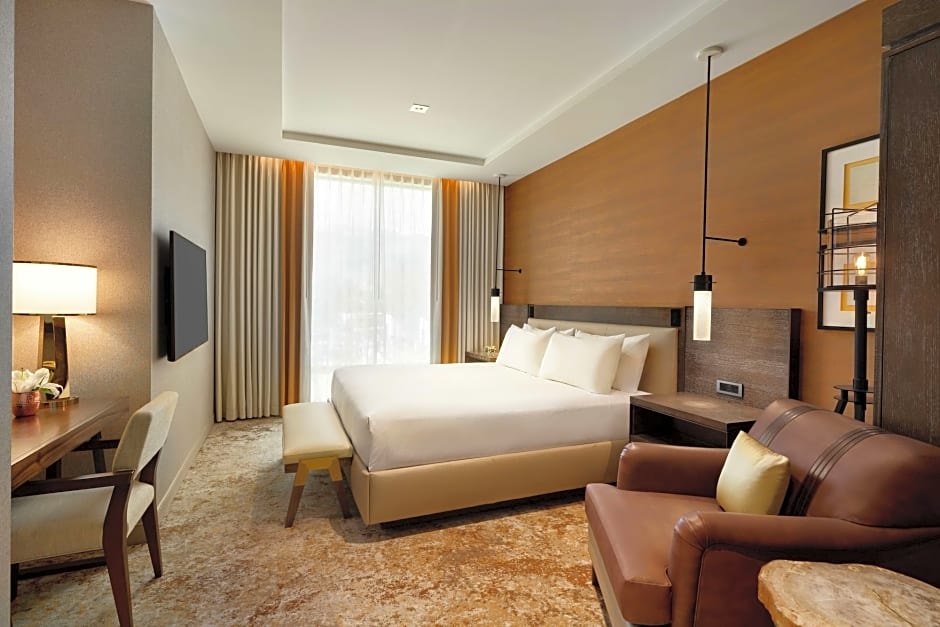 Only a 3-minute drive from Rotary Park. Hoodoo is Another great hotel in the heart of Moab's adventures. In a modern style with sharp lines and natural tones, Hoodoo removes the majesty of Moab's rocks and provides a wonderfully comfortable space for rest and recovery.
A trendy, contemporary luxury hotel with unique views of the Red Rocks
With a restaurant, bar, and lounge all day long, breakfast starts at 6 am and is perfect for an early start on the trail. If you over-explore, the on-site spa, which includes specialized massage facilities, is popular.
7. Sunflower Hill Inn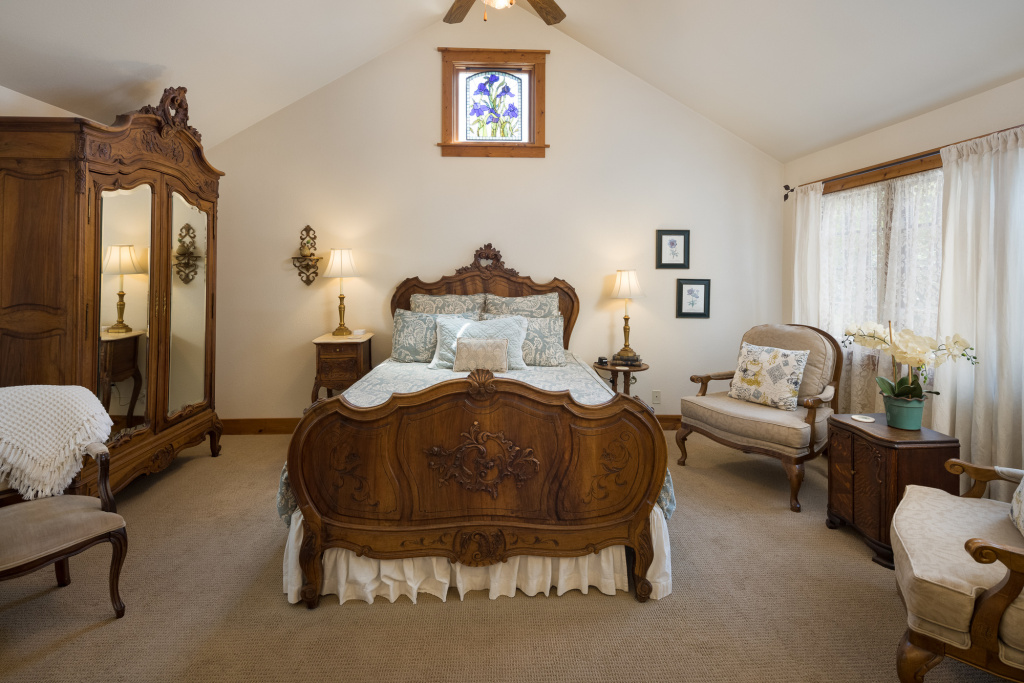 A historic Sugi house is just 3 blocks from the center of town. Sunflower Hill Inn It consists of 6 separate units that incorporate soft and comfortable furniture and a rustic style of simple and tidy design.
One of the historic cedar houses in the heart of Moab
With a relaxing pool outside, stylish outdoor dining on the patio, safe bike storage and a washroom, it's perfect after a long day on the trail. Breakfast can be tailored to your individual needs with a healthy breakfast menu. Whatever you need to liven up your adventure day, dinner is centered around fresh local produce and offers a great Moab experience.
8. Moab Springs Ranch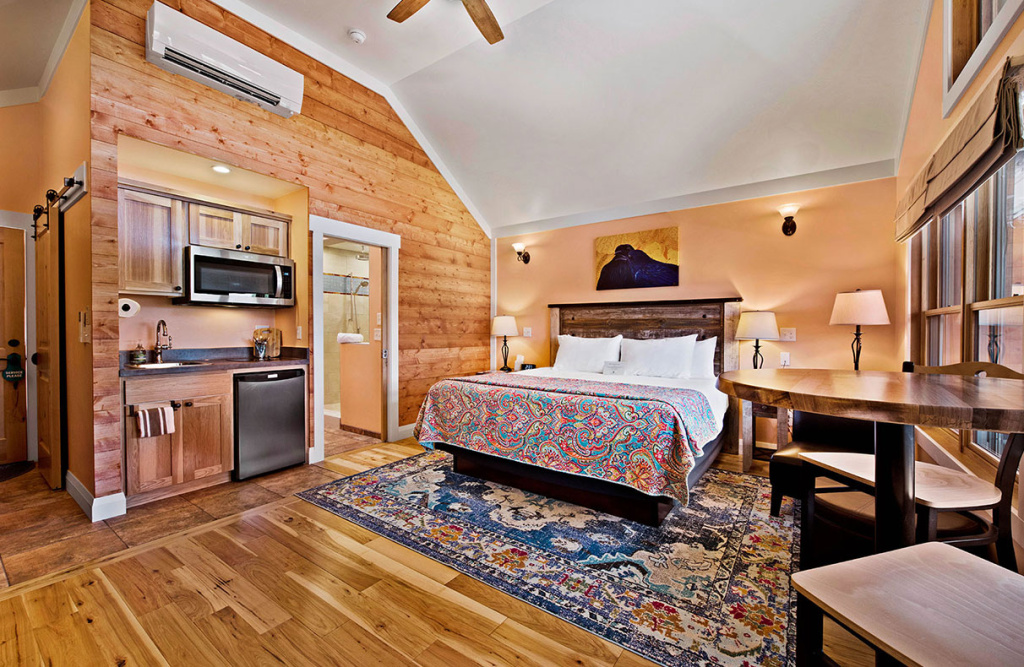 A true desert oasis, Moab Springs Lunch features magnificent cottonwood trees, stunning accommodation, and a flowing waterscape where you can sit, swim, or just fall asleep while listening to the calm currents.
A great family oasis offering spectacular cottonwood wood and a cool atmosphere
Choose a separate luxury bungalow or a one-, two-, or three-bedroom townhouse to get home with all the equipment you need and a stunning view of the moaning itself. With Bike In Bike Out Access, this is the place to stay if you are a Moab exploring the world-famous bike path.
The eco-friendly structure and operation mean a comfortable and sustainable stay and will help keep Moab safe for the next generation of explorers.
9. Moab's Sage Creek
One of the newest hotels in the area, Sage creek Incorporates natural materials, modern designs, and innovative thinking, it creates a unique living experience that stretches from stunning rooms to outdoor spaces.
Modern holiday home with sophisticated design
A place of adventure and luxury, Sage Creek is located in the heart of Canyon Country, offering modern accommodation with sophisticated minimalist lines and luxurious comfort. Outside the magnificent pool area, there is a lounge with a fireplace and stunning views, making it one of the best places to sit and relax and admire the beauty of Moab at night. If you want to enjoy the best of Moab while enjoying modern comfort and design, Sage Creek has it all.
10. Moab's Entrada 632
Great vacation rental just 12.5 miles from Mesa Arch. With rustic yet comfortable and cozy décor, free Wi-Fi, and access to an outdoor swimming pool, it combines the convenience of a trail with the luxury of living from home.
A well-equipped, rustic, and chic villa, perfect for a family vacation.
Each unit has its own washing machine, kettle, cable TV, and kitchen, and on-site services include bicycle rental. For a self-sufficient life where you can set your own timetable while exploring this wonderful area Entrada 632 After spending the day on the trail, we offer the comfort of every home you want, and the flexibility to fit any schedule you plan.
11. Hyatt Place Moab
Sitting on the beautiful red rocks that form the Moab, Hyatt Place Moab It offers the high standards of service you've come to expect from Hyatt, combining it with the relaxed, easier pace of life that Moab represents.
The rooms are nicely appointed, with several communal spaces where people can dine and relax as the sun goes down, and a hotel where you can meet and share the story of your adventure on the trail.
A relaxing hotel with panoramic mountain views
There is a pool and other water views outside, so you can relax and enjoy a refreshing night. The fitness center also allows you to prepare for long walks and cycling.
Things to do in Moab, Utah
Don't miss the Moab Museum, which features great restaurants, interesting independent shops, trendy coffee shops, and a collection of craft beer breweries and archaeological relics.
We hope you enjoy your trip!