In every group, there are typically three distinct types of mini-golf players. These include the incredibly lucky players, the scorekeepers, and the unfortunate individuals who encounter terrible obstacles on the mini-golf course. In Orlando, there is a wide range of exciting mini golf courses that cater to all types of miniature golfers. Whether you enjoy challenging obstacles and quirky terrain or prefer stunning colorful landscapes while waiting for your next shot, each of these courses is sure to ignite your inspiration. You can take it easy and enjoy a game with your friends or engage in some competitive play with your family.
Orlando offers a diverse collection of mini golf courses
These mini golf attractions in Orlando offer a delightful blend of joy and just the right amount of challenge. Whether you prefer to play indoors or outdoors, there are various venues to choose from, each with its own distinctive theme. These vibrant settings are perfect for groups who are eager to embark on an exciting adventure that will ultimately lead them to triumph. Few experiences can match the thrill of sinking a hole-in-one on one of these whimsical and unconventional courses. So, if you're on a quest for that triumphant feeling, allow me to present to you some of the most extraordinary and unique locations for mini golf in the enchanting city of Orlando.
Some of the best mini golf in Orlando
From shining venues in the dark to alien invasion-themed courses, Orlando has a miniature golf course that everyone can enjoy. Whichever place you visit, you will have a tremendous amount of fun.
Orlando, a mini golf that shines in the dark
Putting Edge Mini Golf Orlando
Prepare to be captivated by the dazzling colors and mesmerizing decorations that adorn this multi-layer indoor mini golf course. Step into a realm where the ordinary is transformed into the extraordinary, as you embark on a journey through glorious seascapes and mystical mushroom forests. It's like being transported to another world!
As you make your way through the course, you'll be amazed by the contrasting beauty of the pitch-black "green" against the backdrop of iridescent colors. And don't worry about losing sight of your ball in the darkness, because it too will shine brightly, guiding your way to victory.
But Putting Edge offers more than just a remarkable mini golf experience. Step into the vibrant atmosphere and discover an array of carnival-style arcade games, adding an extra layer of excitement to your visit. And when hunger strikes, you'll be delighted to know that light meals and refreshing drinks are available for your enjoyment.
If you're looking to host a celebration filled with fun competitions and challenging courses, Putting Edge is the perfect venue. You can personally book the facility and create unforgettable memories with your friends and loved ones. And for those special occasions, rest assured that additional dining options and alcoholic beverages are available for events and private bookings.
So why wait? Immerse yourself in the wonder of Putting Edge, where you can escape to a realm of adventure and enjoy a truly unforgettable mini golf experience. Whether you're a seasoned pro or a beginner, this extraordinary destination will leave you with memories that will last a lifetime. Get ready to tee off and let the magic begin!
Find out about Orlando's favorite dark mini golf venue here..
Tiger Woods mini golf, Orlando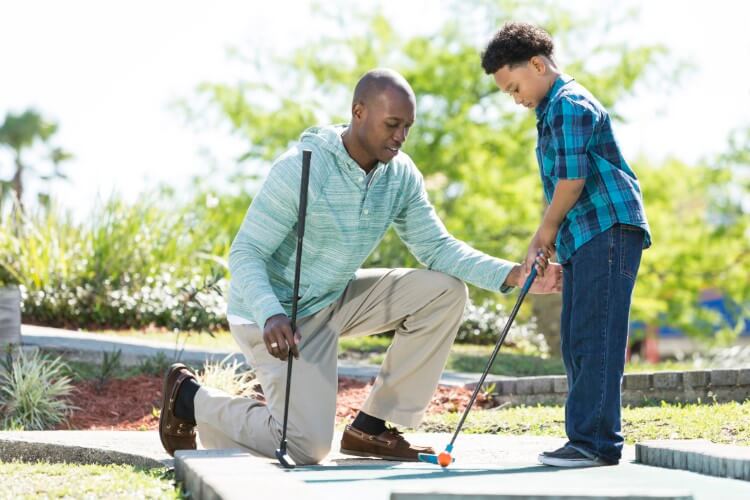 PopStroke Mini Golf Orlando
Are you ready to experience a golfing adventure like no other in the heart of Orlando? Look no further than the PopStroke Mini Golf! Designed by TGR Design and Tiger Woods, this technologically advanced venue offers not one, but two dual putting courses for you to test your skills on. Whether you're a seasoned golfer or just starting out, PopStroke is the perfect activity for families, friends, and golf enthusiasts alike.
Step onto the 18-hole putting course and be amazed by the thoughtfully designed features, including elevation changes, rough areas, and sand bunkers reminiscent of a tournament-level fairway. And when hunger strikes, head over to the full-service restaurant where you can indulge in your favorite meals or snacks. Don't worry about missing out on the action while you eat – the PopStroke app allows you to have your food and drinks delivered directly to the course!
Operating hours at PopStroke are as follows:
Monday to Thursday: 10:00 AM to 10:00 PM
Friday and Saturday: 10:00 AM to 11:00 PM
Sunday: 10:00 AM to 9:00 PM
You can find PopStroke Mini Golf at 9101 International Dr, Orlando, FL 32819. It's conveniently located near other popular attractions, making it a must-visit destination during your time in Orlando.
So, why wait? Grab your friends and family, bring out your competitive spirit, and get ready for an unforgettable mini-golf experience at PopStroke!
For more information please visit their website
Universal Orlando Mini Golf Experience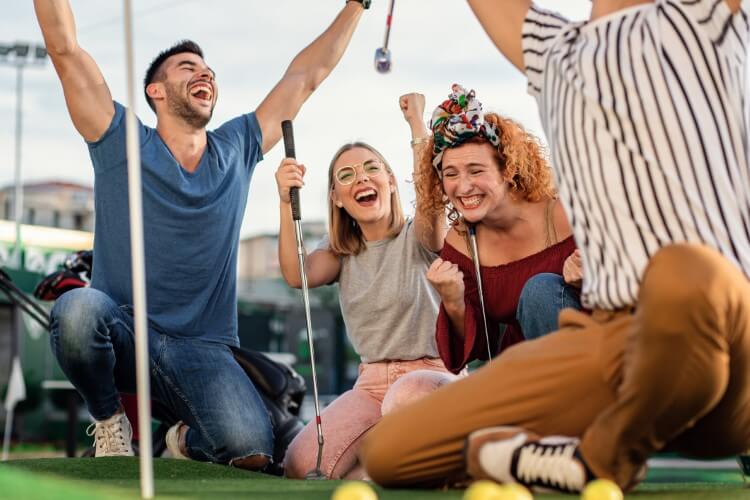 Hollywood drive-in golf
Where the magic of movies meets the excitement of miniature golf! Get ready for an extraordinary experience as you explore two captivating courses that will transport you into eerie stories and thrilling sci-fi adventures.
Immerse yourself in the ghostly green spectrum, but remember, respect the resting place of its otherworldly inhabitants. As you putt your way through the course, be prepared to save Planet Putt from alien invaders with your golf skills. The unique themes of both courses set them apart not only from each other but also from other options for miniature golf.
Filled with laughter and fun, Hollywood Drive-in Golf boasts towering landscapes and whimsical sculptures of cartoon aliens and ghosts. And the best part? You can enjoy this unforgettable experience under the twinkling stars as the course is open all day until midnight.
Located at Universal Citywalk, Hollywood Drive-in Golf offers more than just a game. After exploring the 18-hole course, you can unwind and enjoy a delightful dinner at one of the nearby bars, restaurants, shops, or clubs. It's the perfect way to complete a day of adventure at Universal Park.
Operating hours: Hollywood Drive-in Golf is open all day from morning until midnight.
Directions: Hollywood Drive-in Golf is conveniently situated within Universal Citywalk. Just follow the signs and immerse yourself in a world where movies and mini-golf collide.
So, gather your family and friends, unleash your inner golfer, and embark on a thrilling journey through Hollywood Drive-in Golf. Let the excitement begin!
For more information, please visit: Hollywood Drive-in Golf
Mini Golf on Orlando's International Drive
Pirate's Cove International Drive
The ultimate destination for an adventurous and swashbuckling mini-golf experience in the heart of Orlando!
Set sail on a thrilling 18th-century pirate-themed voyage, where you'll navigate through treacherous seas, wander pirate ship decks, and marvel at breathtaking waterfalls. For over 30 years, Pirate's Cove has been delighting visitors with its unique combination of high-seas excitement and miniature golf.
Located on International Drive, this captivating venue offers a 36-hole adventure that promises unforgettable fun for the whole family. Embark on a golfing journey like no other, as you encounter notorious pirate villains who bring the stories of exploration and looting to life. Sharpen your skills, challenge your companions, and enjoy a day filled with laughter and friendly competition.
Pirate's Cove is not only a treasure trove of entertainment but also a proud supporter of charity. They believe in sharing the bounty, and some of the treasure they collect goes to those in need. So while you're enjoying your mini-golf escapades, you'll also be contributing to a good cause.
Operating hours:
Monday to Sunday: 9:00 AM – 10:00 PM
Directions: Pirate's Cove International Drive is conveniently located on International Drive in Orlando. Simply head to [insert address here], and you'll find yourself immersed in a world of pirate adventures and miniature golf delights.
Come aboard and join us at Pirate's Cove International Drive for an unforgettable experience that will make your Orlando vacation truly legendary!
Find out more about how to ride this mini golf experience here..
Orlando's Magical Putt Putt Golf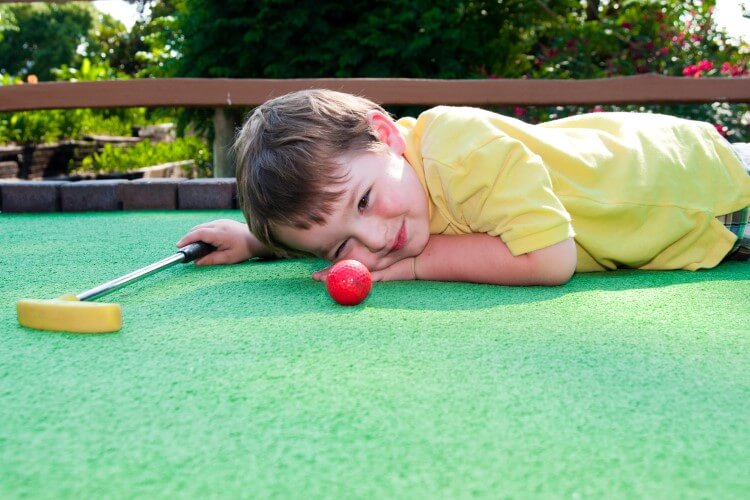 Disney Fantasia Gardens
Waltz in the Fantasia Garden for the opportunity to play on a whimsical miniature golf course and interact with some of your favorite scenes from the musical epic. Witness the ballet dance hippo and the greedy crocodile. Avoid Bacchus wine spills on Mount Olympus. Then follow the pattern of the broom marching up the green. Many magical surprises await. Fantasia Gardens, one of two 18-hole courses, features five scenes from the fun of Disney music. Fantasia.. This is a family-friendly course that children and adults can enjoy together.
Fantasia Fairways is Disney's answer for enthusiastic golfers who want a fun-sized challenge. Designed to be a miniaturized fairway, players encounter obstacles, hazards and bunkers, much like a full-size golf course. Some holes are as long as 109 feet. Fantasia Fairways is touted as the most difficult and longest miniature golf course in the world. You can also enjoy stunning views of Disney's Hollywood Studios from both courses.
Visit to add a Mouse Magic Home to your miniature golf experience here..
Orlando's closest miniature golf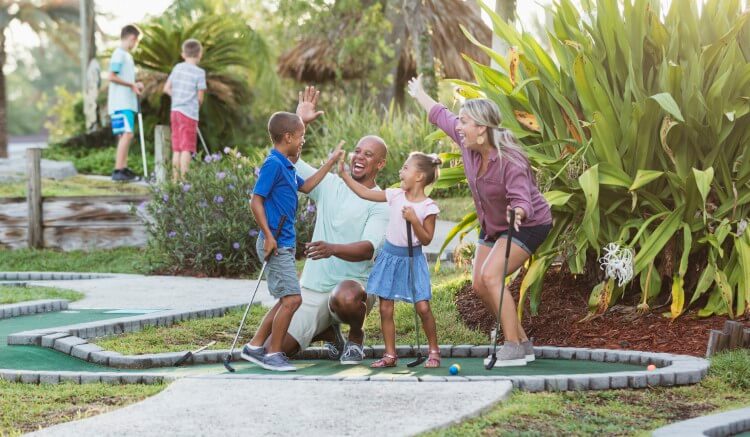 Reunion Resort Mini Golf
Many of Orlando's resorts and communities are just around the corner with great amenities and activities. Reunion Resort is close to the largest attractions and has a miniature golf course on site. If you don't want to venture too far to get a putting fix, staying in one of the Reunion Resort's villas is the best way to get as close as possible to the 18-hole course.
Like most other facilities, mini golf is accessible to anyone with a Reunion Resort membership, including those staying in the home of their choice. Look for the official Reunion Resort banner on the list. This elegant and simple course has many of the twists and turns you would expect from a mini golf. Of course, the resort is built around a full-size golf course. Therefore, if you want to enjoy luxury sports, you don't have to search for a long time.
If you are looking to stay at Reunion Resort, Top Villas has a great selection of luxury homes to choose from.
Play mini golf in Orlando
Are you ready for some mini-golf fun? Orlando, Florida offers a wide variety of exciting and unique miniature golf venues that are sure to captivate both kids and adults alike. From whimsical themes to challenging courses, there is something for everyone in this vibrant city.
Mini golf is not only a great activity for parties and events, but also for a leisurely afternoon during your visit to a nearby theme park. It's a fantastic way to take a break from the hustle and bustle and enjoy some friendly competition with your family and friends.
And the best part? There are plenty of beautiful accommodations just steps away from these popular mini golf spots and theme parks. So after a day of putting on the greens, you can relax and unwind in style, with all the comforts of home.
So why wait? Plan your trip to Orlando, Florida, and discover the endless possibilities of mini golf. Whether you're a seasoned pro or a first-time player, you're guaranteed to have a ball!