If you desire sun, sand, and tranquility, the Turks and Caicos Islands beach house offers one of the best destinations. This stunning archipelago of coral islands is renowned for its abundant sunshine, pristine crystalline waters, and breathtaking natural beauty throughout most of the year.
Located on the scenic northwestern island of Providenciales in the Turks and Caicos Islands, our beloved beach house offers the perfect getaway. Grace Bay Beach, renowned as one of the finest beaches worldwide, is just steps away. Providenciales, also known as Provo, is the most populous and well-equipped island in the region, offering an array of fantastic tourist destinations, shops, restaurants, and world-class beaches. Make sure to explore the island's captivating attractions, including vibrant coral reefs surrounding prime scuba diving spots, invigorating hikes through steep hills, and enchanting boat tours that reveal hidden coves. However, the true highlight of vacationing in Providenciales lies in the expansive white sand beaches that await you.
Coral house – Grace Bay – Turks and Caicos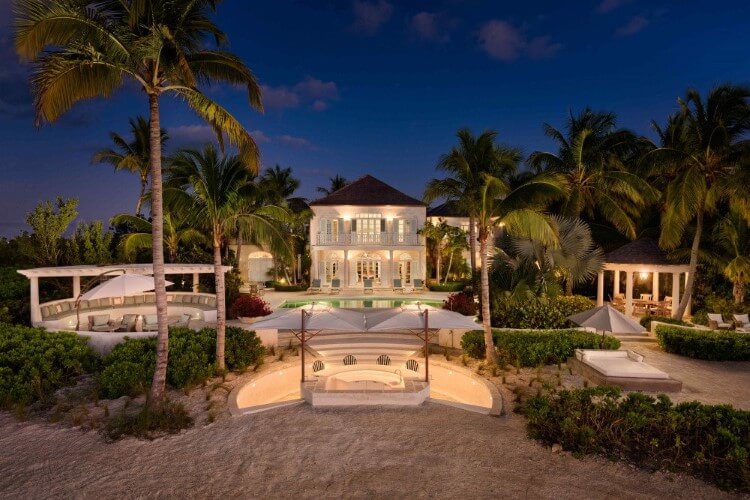 The impressive Coral House lives up to its name, exuding elegance and a distinct Caribbean charm. Recently renovated, this luxurious villa boasts exquisite furniture and a stunning theater design, truly showcasing its opulent status. Inspired by an 18th-century island mansion, the Coral House pays meticulous attention to detail, ensuring a unique and lavish experience for its guests. With a dedicated team of staff and comfortable seating providing ample sea views, this villa offers numerous opportunities for relaxation and rejuvenation. However, the true highlight of the Coral House is its magnificent courtyard. Here, guests can unwind in their own vibrant paradise, surrounded by lush green foliage and beautiful Pro Bono plants.
Alternatively, one can spend time on the newly expanded terrace, enjoying a meal in the sun or effortlessly transitioning from the private cocktail bar to the pristine sands of Grace Bay Beach. As night falls, guests can unwind under the warmly lit pergola by the fire pit. The villa comprises seven separate bedrooms, each with its own private bathroom, as well as air conditioning throughout the entire house. Additional amenities include a home gym, an outdoor barbecue area, and a large heated pool. The Coral House is highly recommended for those seeking a luxurious environment in which to relax and indulge.
Hawksbill Villa in Grace Bay is a two-in-one property with impressive homes and three-bedroom villas in the Turks and Caicos Islands.
Hawksbill Estate
The Hawksbill is a luxurious vacation rental located in the Turks and Caicos Islands. It sits on over four acres of land and can accommodate up to 22 guests, making it perfect for large groups. This spacious retreat offers a variety of amenities, including a villa, a beach house, a tennis court, a half basketball court, two private pools, and a private dock for boat tours.
Hawksbill Villa in Grace Bay boasts a beautiful custom wraparound swimming pool with a lap pool and hot tubs. Inside the villa, you will find a charming interior with a massage room, gym, home theater, and media room. The decor is exquisite, featuring dazzling white walls framed with crimson walnut wood. One of the highlights is the cantilever staircase that leads from the living area to the master bedroom.
For those looking for a more intimate setting, the Hawksbill Beach House is a cozy 3-bedroom villa that can be rented separately. Imagine waking up to breathtaking views of the world-renowned beaches of the Turks and Caicos Islands right from your beach house. This smaller-sized house is perfect for small families or couples looking for a romantic getaway, perhaps even as a honeymoon destination.
Overall, the Hawksbill is an ideal choice for large families and groups of friends who want to relax and enjoy their own space. With direct access to the beach and stunning views of the northern islands and turquoise waters, you can take in the beauty of the horizon and 14 miles of coral reefs.
Salacia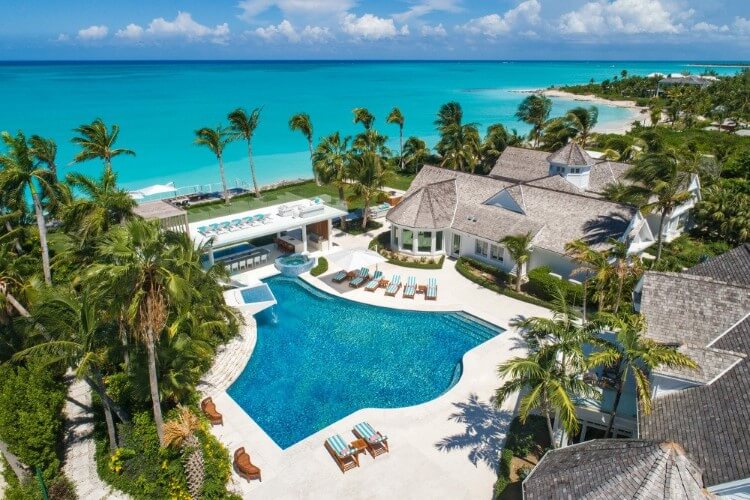 Indulge in breathtaking ocean views from the elevated decks of this expansive private estate. Salacia is an authentic Turks and Caicos villa, perfect for engaging in water sports and various other activities. Unwind beneath the cascading waterfalls of the exquisite free-form swimming pool, and spend your evenings enjoying music and sipping cocktails around the fire pit. The extensive outdoor space boasts a shaded dining area, a pizza oven and grill, a hot tub, and sun loungers.
Inside the house, you'll find an array of entertainment options, including a bar, pool table, ping-pong table, and a spacious home gym. The open plan design affords you the freedom to move around this fully-staffed residence effortlessly. The tastefully arranged decor complements the endless sky and the vibrant Caribbean Sea. Offering all the privacy you desire for a tranquil and rejuvenating vacation, this awe-inspiring waterfront home awaits you with both enjoyment and breathtaking vistas.
Sentosa
Immerse yourself in the tranquility and serenity of this beautiful oasis. Villa Sentosa, designed by a local architect, offers a perfect blend of elegance and spaciousness. Unwind on the shaded terrace veranda and enjoy breathtaking views of the beach and its glistening sands. Among the villas in the Turks and Caicos Islands, this rental stands out as one of the most picturesque options for a relaxing vacation.
Dine in style outdoors, taking in the refreshing Caribbean breeze, and find solace under the shady cabanas or in the comfortably cool bedrooms of this single-story haven. This delightful villa features a media room, foosball table, TVs in every room, snorkeling equipment, a home gym, and a fully equipped commercial kitchen where the villa staff can prepare meals.
Like most luxury villas in the Turks and Caicos Islands, you can expect unparalleled personalized service that allows you to unwind beyond your expectations.
Get closer to the coral reefs of this gorgeous beach house in the Turks and Caicos Islands
Silver Sand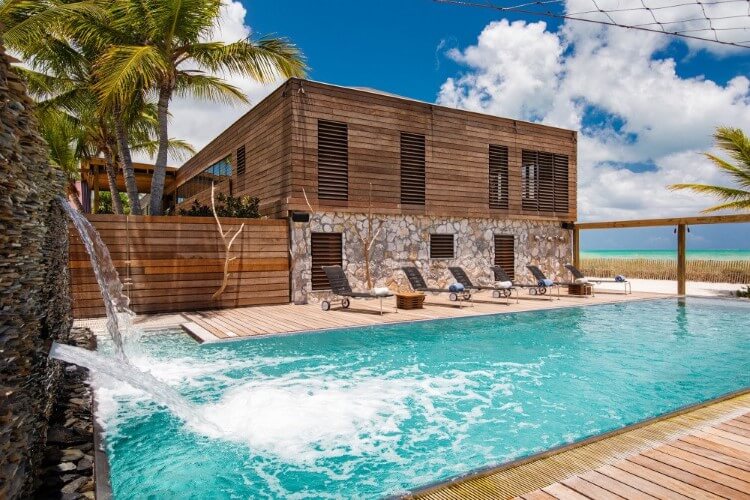 The Pro Bo coastline boasts a one-of-a-kind European-inspired villa, characterized by its imaginative design. The villa's exquisite decoration and furnishings reflect the careful attention and love invested in its creation. Enhancing the native wooden frame of the house are driftwood accents, while twin balconies and roof decks offer breathtaking panoramic views. Upon entering the impressive garden, guests are greeted by natural palm trees and local plant species. Nestled in the tranquil Thompson Cove, Silver Sands provides a serene setting to savor the renowned ocean vistas and enjoy moments of relaxation.
Just a stone's throw away, the crystal-clear waters beckon snorkelers to explore their depths, while paddleboarding and kayaking offer opportunities to discover artificial reefs and fascinating natural areas. As a vacation rental in Providenciales, this luxurious home serves as an ideal base from which to experience local attractions and immerse oneself in the local culture. Within minutes of Silver Sands, guests can find the stunning Smith's Reef, as well as local eateries and live music venues recommended by the staff. Keep an eye out for the nearby pelicans who have made their home in the area!
Relax in the comfort of a private villa in the Turks and Caicos Islands
Villa AWA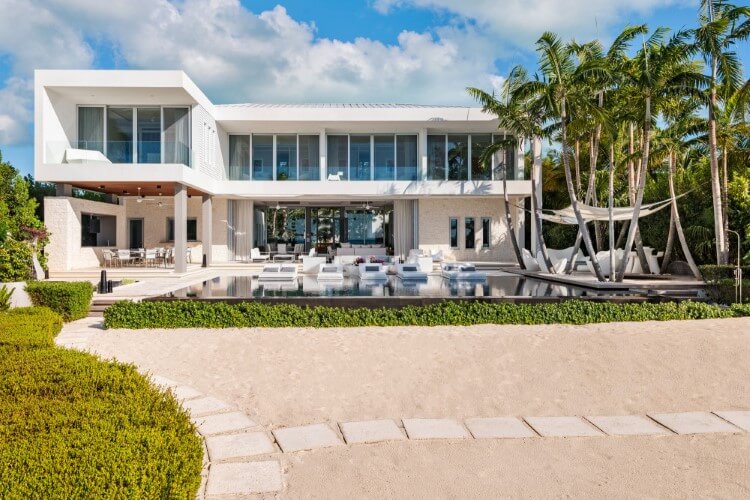 Villa AWA is a remarkable and astonishing vacation rental that seamlessly blends impeccable design with breathtaking ocean views. The attention to detail in this exquisitely adorned property is truly awe-inspiring. Nestled within graceful gardens, the house is constructed from locally sourced stone and adorned with custom-made marble accents and woodwork. Expansive windows frame the magnificent vistas, with the master bedroom offering a private terrace and indoor/outdoor showers that provide an immersive experience.
The best features of this Turks and Caicos Islands villa rental include a beachside deck under a herd of palm trees, a full team of service staff, a bike, a home theater and a large private drive. Cross the stepping stones and stand on your toes to the beach, use water sports equipment and enjoy the refreshing water that rushes to the shore.
Make the most of Grace Bay's beachfront villas
Vision beach
With its impressive 240-foot beachfront, Vision Beach stands out among the homes on this list. Among all the beach houses in the Turks and Caicos Islands mentioned so far, this particular house beautifully captures the serene beauty of Grace Bay Beach. Upon arrival, the villa staff will warmly greet you at the grand entrance. Inside, you'll discover a comfortable TV room, a massage room, and a master bedroom with breathtaking beachfront views. However, the true highlight of this villa is its outdoor space. Take a moment to witness the breathtaking Caribbean sunset over the calm waters of the heated private pool.
In the evening, engage in conversation around the sunken fire pit before taking a leisurely stroll along the private beach path just a few meters away from the glistening blue sea, illuminated by torches. Stay active with activities such as kayaking, paddleboarding, utilizing the home gyms, or taking advantage of access to Vision Kite, the Caribbean's premier kiteboarding destination. All in all, Vision Beach offers the perfect beachside retreat to enjoy Providenciales and soak up the sun.