Vacation Rentals
Inside 5 vacation rentals with cool space-themed areas in Orlando, FL
Embark on a thrilling journey as you venture into the unexplored realms of our mesmerizing vacation rentals in the enchanting city of Orlando. Prepare to be captivated by the celestial beauty of our star-themed rooms, which are meticulously designed to inspire and ignite the imagination of aspiring astronomers and intrepid astronauts alike. These extraordinary accommodations are widely regarded as the epitome of magnificence, not just within the bounds of our vast solar system, but also throughout the expanse of the majestic Milky Way galaxy. With your trusty compass in hand, get ready to navigate through the cosmic wonders that await you, and immerse yourself in an unparalleled stellar adventure that will leave you breathless with awe and wonder.
Reunion Resort 2100
It's not only kids who dream of exploring space. This stylish room, adorned with a subtle moon-inspired design inspired by NASA's historic Apollo program, is perfect for space enthusiasts and teenagers who want a room with a lighter theme. Imagine it as your own personal moon lander in the incredible Reunion resort villa, complete with sleek space gray furnishings and moon-themed wall art. But this property has more to offer than just themed rooms. Guests also have access to a game room, private pool, home gym, cinema, and all the fantastic on-site amenities of the hotel. And if you can tear yourself away from Reunion's amazing attractions, Orlando's theme parks are just a stone's throw away. Disney World is only 9.6 km away, and Universal Studios is 21 km away.
Reunion Resort 29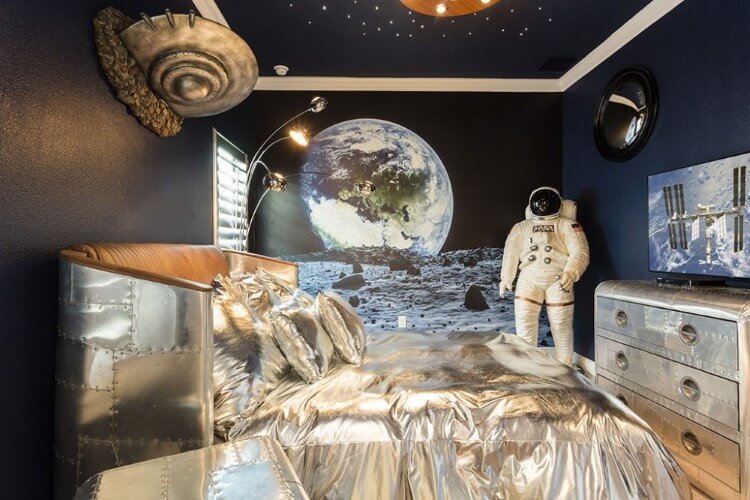 As you gaze upon the magnificent room inspired by outer space, you can't help but feel an overwhelming sense of excitement. If you've ever dreamt of experiencing life on the moon, this is your chance. With astronauts adorning the walls, futuristic silver beds, and captivating wall art featuring breathtaking views of the Earth and the moon, this room provides a gravity-free environment and all the fun of lunar exploration. This vacation rental at the Reunion hotel offers an array of astronomically cool amenities. From the luxurious private pool to the newly renovated game room in the loft, there is plenty to keep the entire family entertained during their stay.
Bears Den 4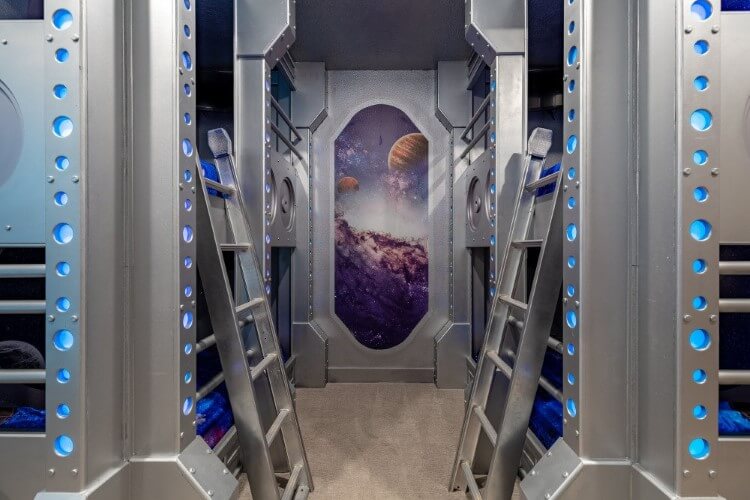 This remarkable villa in Orlando boasts rooms with a theme inspired by outer space, creating a truly superb experience! Immerse yourself in the role of an impressive astronaut and journey through the starry sky in a room that resembles a rocket. The silver metal bunk bed features futuristic blue LED lighting, while the walls are adorned with a breathtaking picture of the universe. In addition to its space exploration theme, this vacation rental in Bearsden offers a variety of other outstanding features. The outdoor area is known for its pleasant sunny weather and is perfect for enjoying a large private pool, a restaurant just steps from your door, as well as an outdoor kitchen and barbecue. If you're a golf enthusiast, you'll be pleased to know that there is a golf course just 1.6 km (1 mile) away. And for those seeking excitement and entertainment, Disney World and Universal Studios are only 9.6 km (21 miles) away.
Veranda Palms 3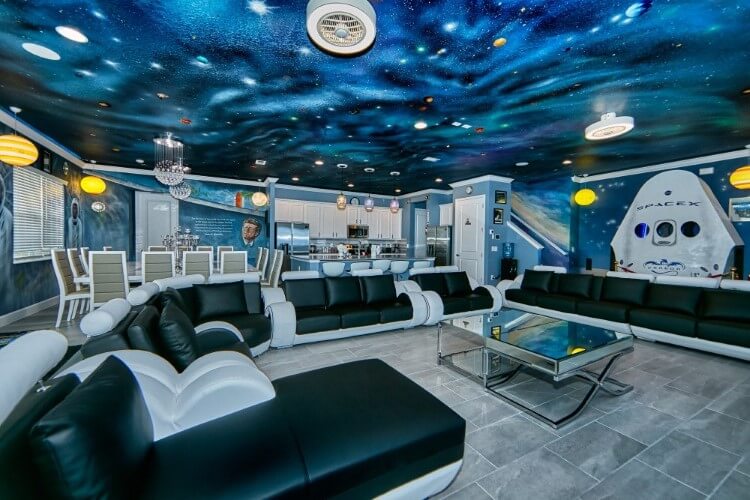 Does the family have a strong interest in space? It's unnecessary to discuss who will get the coolest room in this house. Every room in this stunning vacation home is equally cool! The entire house is designed with a space theme, featuring beautiful living areas and control centers, bedrooms adorned with swirling galaxies and colorful nebulae, and game rooms with interstellar decor. It would be the perfect place to play space Invaders. This rental home at Orlando's Veranda Arms Resort is not small by any means.
It can accommodate up to 40 people. Additionally, there are many amazing amenities such as a private pool and a two-lane bowling alley. The resort itself offers fantastic perks including a large swimming pool, a gym, and water slides. With easy access to Orlando's theme parks, shops, and restaurants, this villa is an ideal choice for exploring the city.
Reunion Resort 1023
Experience the thrill of being in a flight deck-themed gaming room and make the most of your excursion time. This immersive room resembles a command center, complete with top-notch equipment such as flight simulators, gaming consoles, and karaoke machines. It is the ultimate holiday destination in Orlando for those seeking unparalleled entertainment options.
Located within Reunion Resort, this extraordinary space is just one of the many amenities available. The property also boasts a private pool, games room, and home theater, making it the perfect family vacation rental. Guests have full access to the resort's fantastic facilities, including an amazing on-site water park and sports center.
In addition to its outstanding amenities, Reunion Resort is conveniently situated near Orlando's best attractions. Walt Disney World and Universal Studios are only a short distance away, allowing guests to easily explore all that Orlando has to offer.
To learn more about these vacation rentals please visit The Top Villas