Ah, the legendary swimming pool. It is an essential feature to consider when planning a trip to a warm destination. After all, where else can you seek respite from the scorching sun and leisurely float around with a refreshing cocktail? In our view, having access to a pool that you can dive into at any time during a hot vacation is absolutely crucial. However, not all pools are created equal. And what could be better than an ordinary pool? Your very own private pool, exclusively available for your use throughout your entire vacation! Whether you desire a cozy villa for just the two of you, a larger one to accommodate a group of friends, or the ultimate luxurious property, we have a wide selection of villas that come complete with a stunning private pool.
If you are traveling with your partner or in a very small group, a small villa is probably what you are looking for. See our recommendations for villas with 2 or less bedrooms. However, all have their own pool.
Villa Paradiso I– 2 bedrooms, suitable for 6 people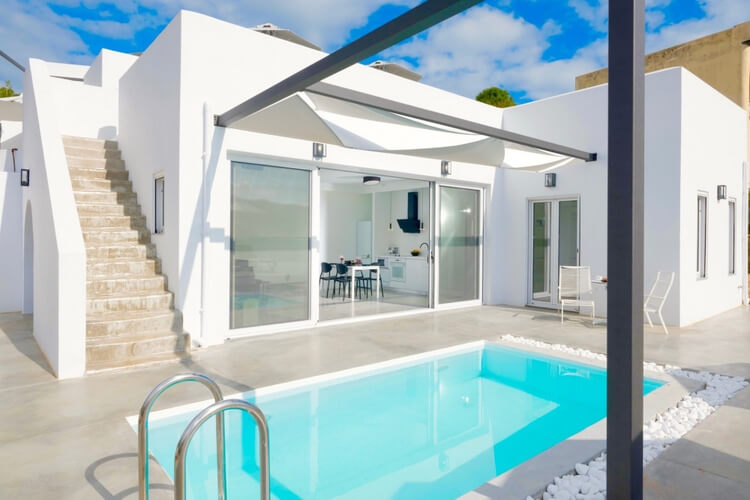 Villa Paradiso 1 is a charming and cozy white villa with a pristine interior from every perspective. The hotel offers all the amenities necessary for an enjoyable vacation, such as a picturesque private pool encompassed by glistening white pebbles. Additionally, there is a spacious terrace where you can unwind under the sun after taking a dip in the pool. The bedroom features a convenient French door that provides direct access to the pool area, making it ideal for early morning swims or late night relaxation. Moreover, Villa Paradiso 1 is conveniently located just 600 meters away from the stunning beaches of Agia Pelagia, only a 30-minute drive to the west of Heraklion on the island of Crete.
Villa Paradiso II – 2 bedrooms, suitable for 6 people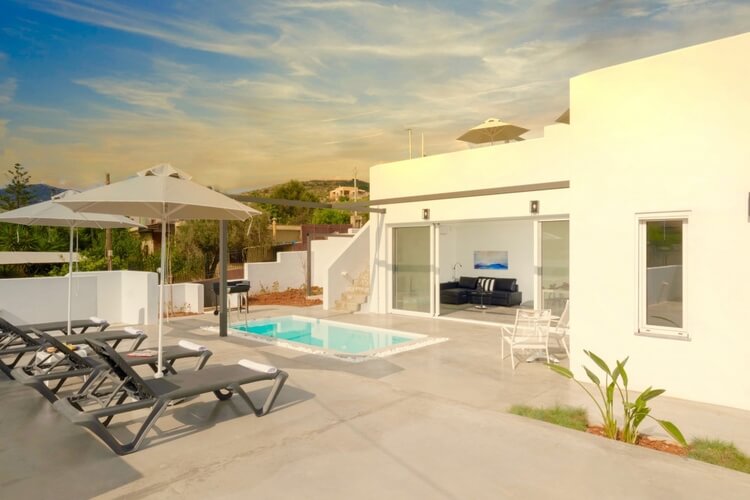 Villa Paradiso ii shares many similarities with Villa Paradiso i, featuring a similarly clean and sophisticated interior design. Just like its predecessor, it boasts a bedroom that opens up to a terrace, providing stunning views of the surrounding area and Agia Pelagia Beach. However, what sets this villa apart is the addition of a raised section next to a gorgeous private pool, complete with ample sun loungers for ultimate relaxation.
Oleas Suite 2 – 1 bedroom, for 4 people
The Oleas Suite 2 may be compact in size, but it packs a punch when it comes to its features. Situated in the outskirts of Heraklion in Crete, this contemporary and exceptionally stylish villa is an ideal choice for couples and friends seeking a refined holiday experience in Greece. With its tastefully designed interior and cozy bedrooms, the true gems of this villa await outside. As you open the glass doors, you'll be greeted by a private terrace offering stunning panoramic vistas of the picturesque Greek landscape. Take a refreshing dip in the private pool and witness the breathtaking sunset as evening descends upon the rolling hills.
Villa Herona – 2 bedrooms, suitable for 7 people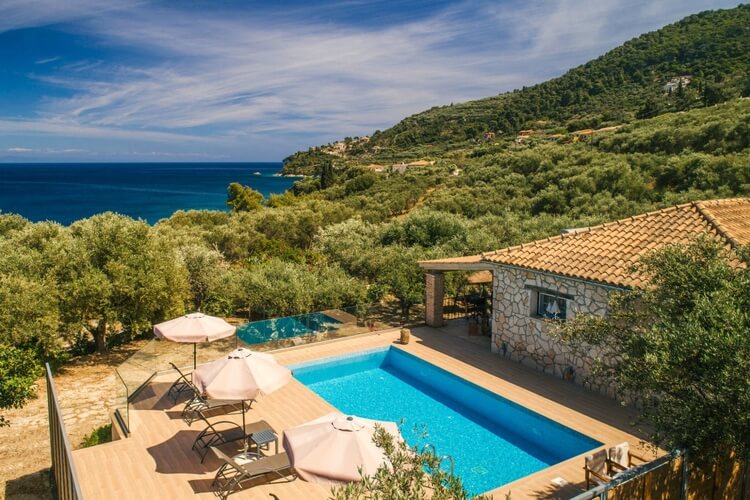 Despite having only two bedrooms, Villa Herona offers ample space to accommodate up to 7 people. The villa features a charming rustic stone design and is situated in the sought-after area of Malatias on Zakynthos. With its spacious pool and a stunning terrace enclosed by glass barriers, guests can relish in the privacy of their own pool while enjoying picturesque views of the countryside and ocean. For those who crave the refreshing sea waves, the nearest beach is conveniently located just 600 meters away, providing the perfect opportunity to trade the freshwater of the private pool for a dip in the sea.
Santorini-41 – 2 bedrooms, for 4 people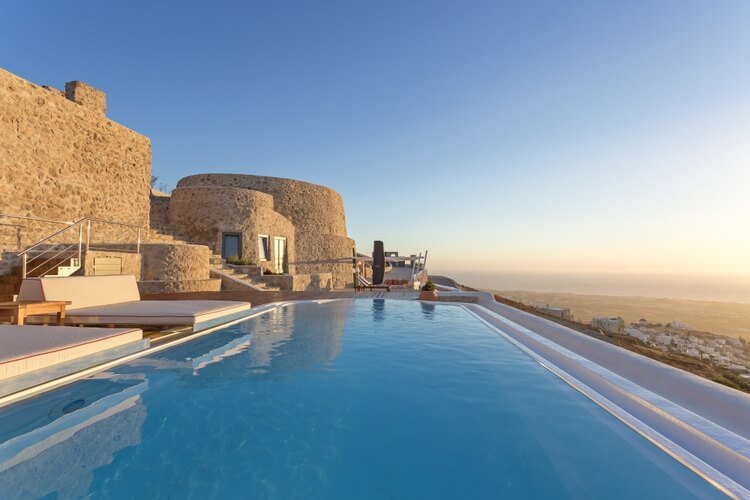 Are you longing for a serene moment, floating in a pool while gazing at a vibrant sunset that sets the sky ablaze and seemingly ignites the ocean? Look no further than Santorini-41, an enchanting stone villa on the renowned island of Santorini. Despite its modest two bedrooms, this villa offers ample space, a covered dining area, a spacious infinity pool, water-suspended sunbeds, and a magnificent outdoor patio that grants captivating views of the ocean. Santorini-41 is the ideal destination for a tranquil and rejuvenating vacation.
Villa Agricola – 5 bedrooms, suitable for 11 people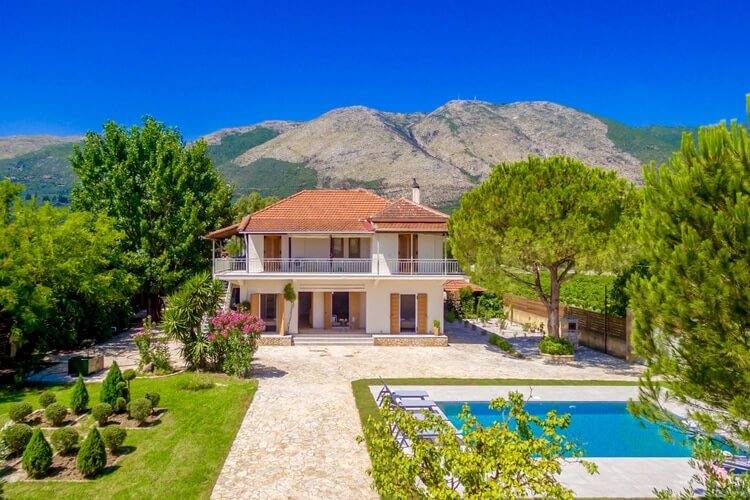 Villa Agricola is an exquisite hotel nestled against a backdrop of beautiful mountains. It boasts a spacious patio with a charming wraparound balcony, lush foliage, and a delightful swimming pool. The pool area is adorned with comfortable sun loungers, allowing guests to unwind by the water or explore the expansive gardens. For those who enjoy cooking together, there is a generous outdoor barbecue perfect for preparing a family dinner. Inside, the villa exudes elegance with its stunning hardwood floors and carefully curated furniture. Conveniently located on Zakynthos Island, it is just a short distance from several stunning beaches, including Alikanas Beach, Paralia Psarou, and Paralia Chiribi.
Patmos 1-7 bedrooms, 16 people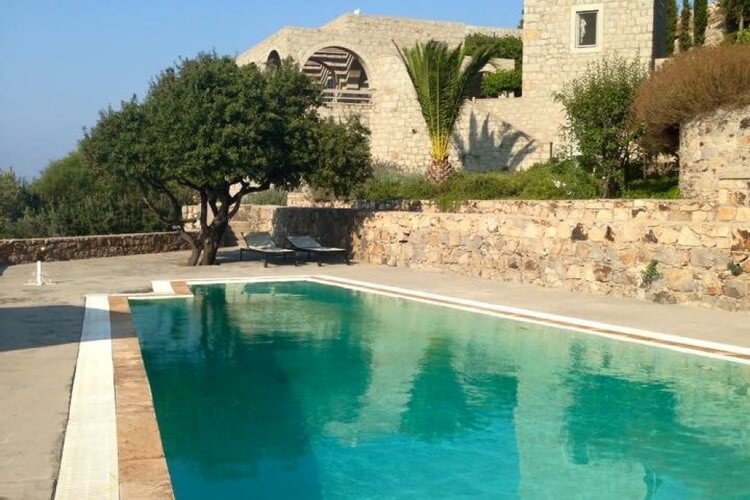 Patmos 1 is a spacious villa located on the picturesque Greek island of Patmos. This stunning property showcases the timeless beauty of rustic Pratima stone architecture, complete with traditional arches, vaults, and arcades. With its charming terrace and generous sunbathing area, guests can relax and unwind while taking in the breathtaking panoramic views of the island hills and the sparkling waters that border the nearby pebble beach. Additionally, Patmos 1 is conveniently situated near other beautiful beaches, including the sandy Paralia Sapsilah Beach.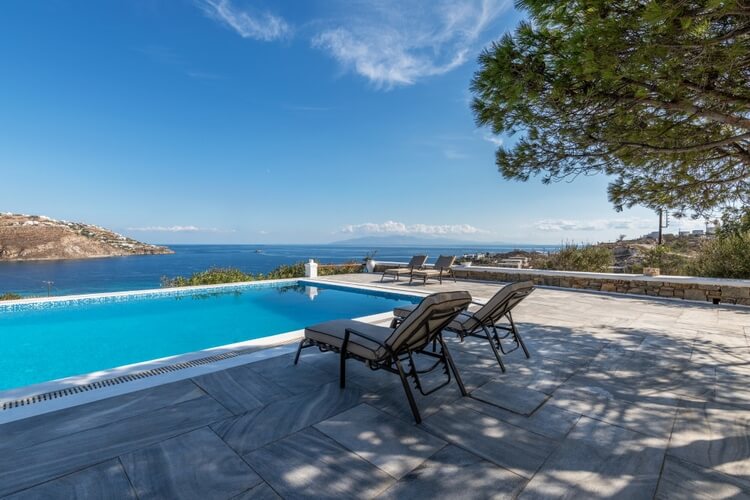 Your stay at Mykonos 5 is guaranteed to be a delightful experience for both you and your entire group. This magnificent villa boasts white-washed walls, covering an expansive area of over 4000 square meters. The bright blue shutters, pergolas, and outdoor dining area on the balcony provide ample shade from the scorching sun. Additionally, the villa is adorned with beautiful stone pillars.
The surrounding terraces offer numerous relaxing spots, allowing you to unwind and take in the breathtaking views. Not to mention, there is a stunning private infinity pool that overlooks the ocean and Ornos beachfront. Mykonos 5's location on the eastern side of Mykonos ensures easy access to various beaches.
If you're considering hosting an event or celebration at Mykonos 5, you'll be pleased to know that there is a terrace capable of accommodating up to 150 people (with permission).
Villa Peach – 6 bedrooms, suitable for 12 people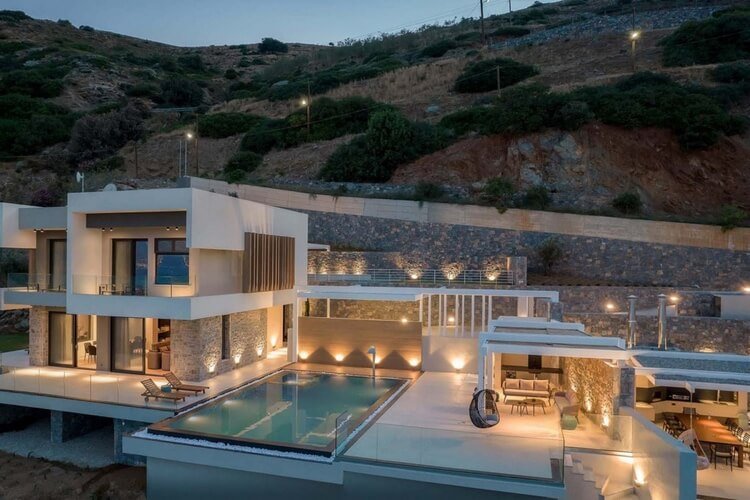 Villa Peach is an opulent residence boasting 6 bedrooms and 8 bathrooms, accommodating a maximum of 12 guests. Situated amidst picturesque hills and along the coastline of Crete, these villas exude contemporary sophistication. The expansive illuminated terraces, covered seating areas, and a stunning private infinity pool offer a tranquil oasis for relaxation. Notably, one of the pool sides is embraced by glass panels, providing a unique and immersive experience. Additionally, the villa features breathtaking panoramic views of the adjacent ocean from its decks. The interior is exquisitely designed, adorned with tasteful furnishings and a warm color palette throughout.
Villa Carteros – 5 bedrooms, suitable for 11 people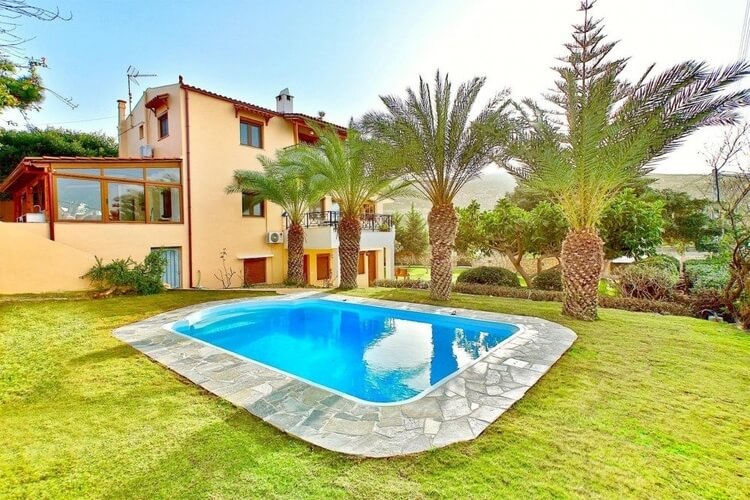 Villa Carteros shines like a radiant orange jewel amidst the picturesque Greek countryside of Crete. Encircled by a sprawling lawn adorned with majestic palm trees, this villa boasts a delightful private pool, embraced by lush green lawns, and provides breathtaking vistas of the surrounding landscape. Immerse yourself in the enchanting ambiance or select from numerous sunny retreats to unwind. If you crave the sandy shores, a nearby beach is just a leisurely stroll away. Inside, Villa Carteros exudes a cozy and inviting atmosphere, with pristine white walls, furnishings and decor in shades of orange and yellow-brown, and some rooms showcasing appealing wooden ceilings.
Luxurious Greek villa with pool
For those looking for something special when looking for a Greek villa with a private pool, don't worry-we cover that too. For the ultimate luxury and magnificent interior, see some of the most luxurious villas offered in Greece. All have a magnificent private pool.
Villa Golden Crest – 3 bedrooms, suitable for 6 people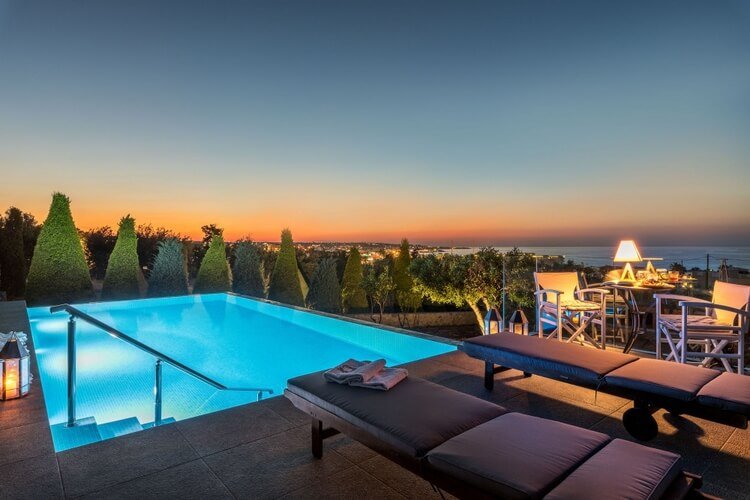 Villa Golden Crest is a stunningly constructed villa with expansive lawns that exude elegance. The villa is encircled by towering trees and boasts a covered outdoor dining area adorned with flowing white curtains. The interior decor seamlessly blends rustic Greek charm with contemporary comfort, showcasing meticulous attention to detail and incorporating antique elements. The pool is invitingly clear and spacious, extending gracefully into the garden while providing picturesque vistas of the illuminated landscape in the distance and the nearby sea. Situated on the sought-after island of Crete, near Hersonissos, this villa is fully equipped to cater to your every need.
Villa Cabo Mare Mertemi – 3 bedrooms, suitable for 6 people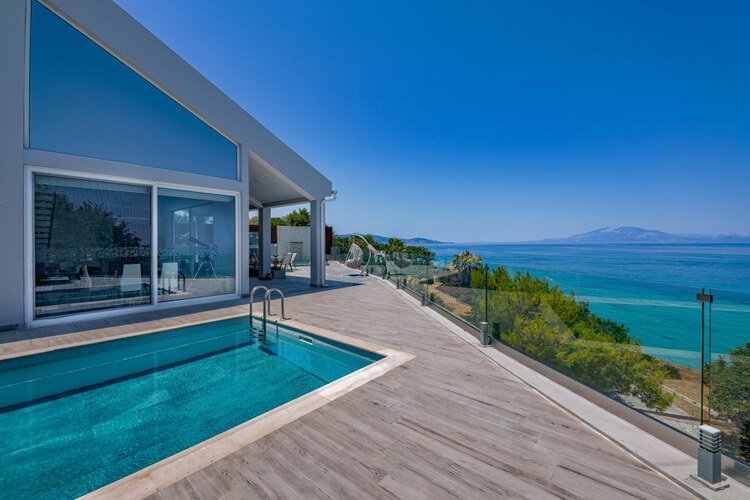 Villa Cabo Mare Mertemi stands out as an extraordinary hotel and holds a special place among our top picks in Zakynthos. Its lavish interior exudes a captivating Hollywood charm, making it an anticipated destination for celebrities seeking a summer retreat. However, it is the exterior that truly steals the show. The expansive patio boasts a breathtaking swimming pool and a jacuzzi with a cascading waterfall, creating an enchanting ambiance for evening relaxation. Enclosed by a glass barrier, the property offers unparalleled views of the Ionian Sea and the surrounding islands, enhancing its already mesmerizing appeal.
Villa Plaka Siren – 3 bedrooms, suitable for 7 people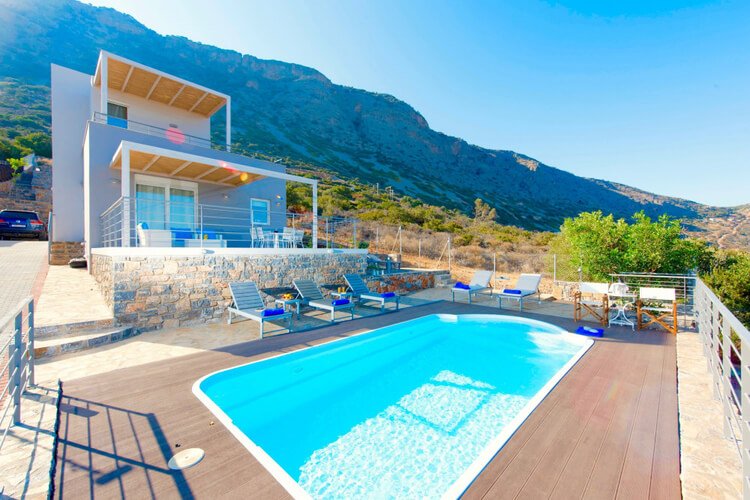 Villa Praka Siren is a contemporary and exquisitely designed villa situated in a unique location, boasting breathtaking mountain vistas and a vast ocean just a short distance away, with the beach only 600 meters away. The exterior of the villa offers ample space for dining while providing stunning views of the surrounding area. The private pool is seamlessly integrated into the villa's deck and is accompanied by comfortable sun loungers. Inside, the villa exudes a warm and inviting atmosphere, ensuring your comfort from the moment you step foot inside. Located in Pracaerounda on the island of Crete, Villa Praka Siren also offers picturesque views of the magnificent Spinalonga Island in the distance.
Villa Rigalia – 3 bedrooms, suitable for 5 people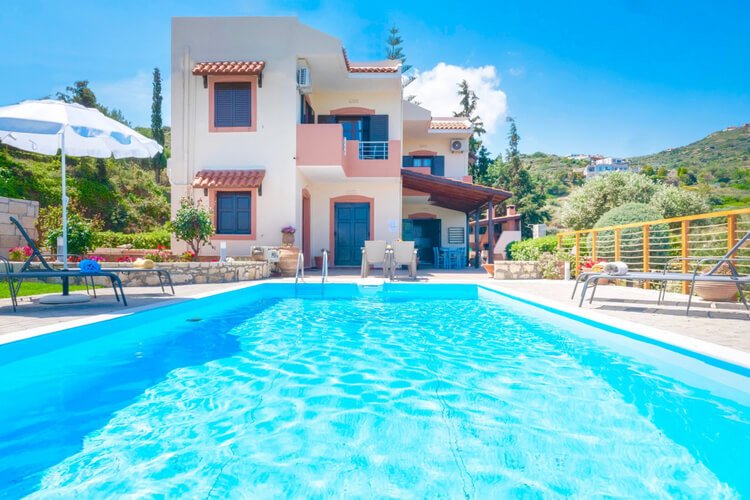 If you are in search of a stunning villa with a private pool, look no further than the enchanting Villa Rigalia. With its charming white and pink exterior that beautifully contrasts with the vibrant blue sky of Greece, this villa is an absolute gem. Equipped with a balcony, a covered dining area, and a spacious pool, it offers everything you need for a memorable stay. The villa's gardens are thoughtfully designed on two levels, providing breathtaking views of the sea and the nearby beaches of Rigalia on the island of Crete, which are just a short 100 meters away from the property.
Duchess of Villa – 7 bedrooms, suitable for 11 people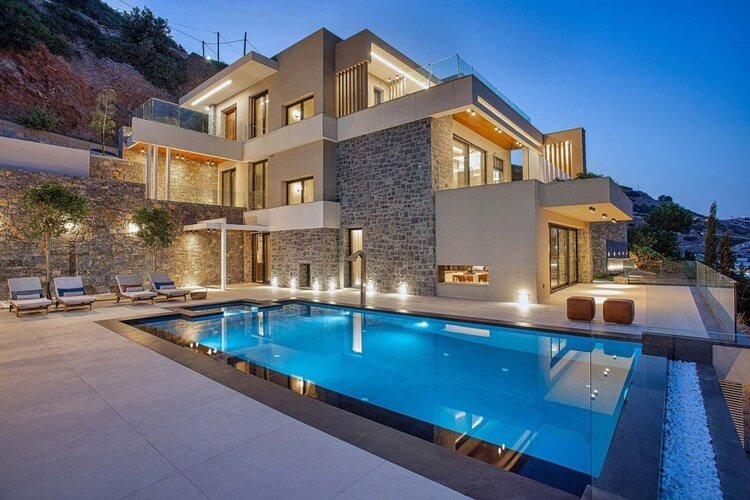 Finding a villa as opulent and extravagant as the Duchess of Villa may prove to be a challenge. Perched on a hill with a breathtaking view of the sea, this villa exudes a rock star aura. The outdoor area is spacious and adorned with alluring lighting, while the interiors are simply stunning. A magnificent barbecue area, covered dining space, and plush sofas surrounding a lavish fire pit make for an extraordinary setting. And then there's the pool, which is beyond words. The Duchess of Villa boasts a pool that is nothing short of extraordinary. Illuminated at night, the glass panels surrounding the property remain open, creating an illusion of swimming in the vast ocean under the moonlight. This ultimate luxury and decadence of Villa Duchess will fulfill your wildest dreams, especially when it comes to the pool.