Things To Do
6 vacation destinations for Valentine's Day
Europe, America and Caribbean
While flowers and chocolates are often considered traditional, why not consider something unique for your upcoming Valentine's Day? Take your romantic experience to the next level by planning a getaway to one of the most enchanting destinations in the world.
Europe's most romantic places for Valentine's Day
Indulging in a romantic getaway in Europe's enchanting and captivating cities is the perfect Valentine's Day gift. Europe, a continent brimming with romance, offers stunning historic cities, delectable cuisine, and awe-inspiring natural wonders. So, which destination is ideal for an unforgettable Valentine's Day vacation?
Romantic Paris for Valentine's Day
Unsurprisingly, Paris, also known as the "City of Love," ranks at the top when it comes to the best destinations for Valentine's Day getaways. While Paris gained fame for its romantic and artistic attractions in the 19th century, it has always embraced and evoked love. The city offers a multitude of romantic experiences. Walking along the banks of the Seine or enjoying a picnic in one of the city's gardens are among the most popular activities.
However, the most iconic Valentine's Day experience in Paris undoubtedly involves a visit to the Eiffel Tower. Scaling the 324m structure to admire breathtaking views of the city is an incredibly romantic gesture. To add to the allure, one can even stop at the champagne bar on the top floor to refresh oneself after the climb. At night, the Eiffel Tower raises the stakes with its enchanting light show that occurs every hour, creating an even more idyllic atmosphere. It's no wonder that this Parisian icon has witnessed countless proposals.
A vacation to Paris would be incomplete without indulging in French cuisine. The city boasts numerous romantic restaurants that are perfect for setting the mood on Valentine's Day, with their cozy candlelit interiors that create a captivating ambiance.
Italy's most romantic place
Celebrate Valentine's Day in Italy and indulge in the romance of some of Europe's most enchanting cities. One of the advantages of choosing this time is that it falls during the low season, allowing you and your partner to savor the intimate atmosphere of Italy without the usual summer crowds (or expenses).
Romantic vacation in Rome, Italy
Rome, known for its romantic ambiance, is a top destination in Italy for couples seeking a cozy vacation. On Valentine's Day, there are numerous activities to enjoy in Rome, such as exploring famous landmarks like the Colosseum, Trevi Fountain, and the Vatican. Additionally, indulging in a Italian is must-do experience. For a truly unforgettable moment, consider visiting Aventine Hill sunset. As one of Rome's seven hills, Aventine Hill breathtaking views of the entire city. Settle for a picnic as the sun gracefully dips below the city skyline, creating mesmer and memory. This is undoubtedly one of the most enchanting experiences Rome has to.
Florence for Valentine's Day
Boasting centuries of artistic heritage, breathtaking architecture, and delectable cuisine, Florence is an ideal destination for culture enthusiasts seeking a romantic Valentine's Day getaway. The city's enchanting cobblestone streets seem to lead to new discoveries, whether it be captivating churches or historic theaters. These venues offer the perfect setting for Italian opera performances and classical music concerts.
For a truly romantic experience, Piazzale Michelangelo is a must-visit spot to witness the city's sunset. However, if you desire a more intimate setting for your Valentine's Day celebration, venture uphill for just 10 minutes to San Miniato Cathedral. From there, you will be treated to awe-inspiring views of the city nestled amidst the rolling Tuscan hills, creating a magical atmosphere that you can enjoy almost exclusively.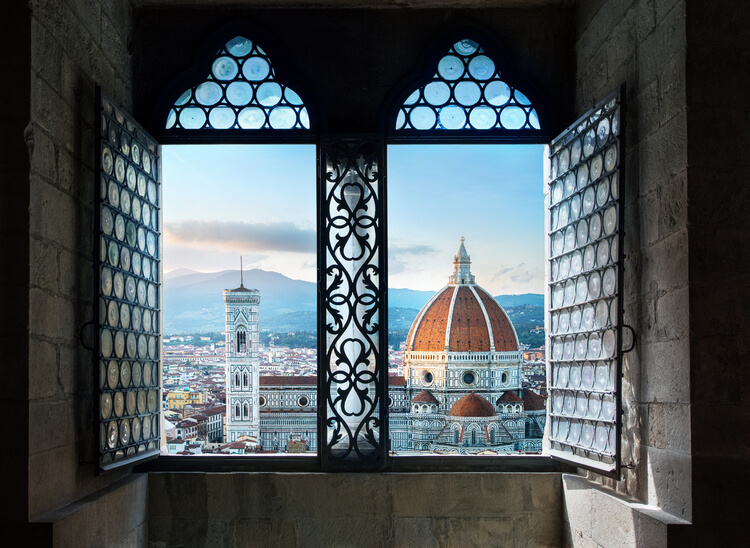 Valentine's Day in Venice
Venice offers an ideal setting for a romantic Valentine's Day getaway. One of the highlights of this romantic city is the gondola ride, which takes you through the canals. As you glide along, you'll be serenaded by the melodic tunes of the gondolier, surrounded by weathered palaces that rise above the water, and enchanted by the enchanting sounds of opera echoing through the narrow streets. Italy is renowned for its exceptional cuisine, and Venice is no exception. Fresh seafood is a culinary delight in this region.
To truly savor the authentic flavors of Venice, venture off the beaten path and seek out local establishments. Avoid touristy places near St. Mark's Square, as they tend to be more expensive than the average. A gondola ride along the Grand Canal is synonymous with romance in Venice. While it may come with a higher price tag, around 80 euros for 30 minutes (booking in advance can save you money), it is an essential part of the Venetian experience and well worth the investment.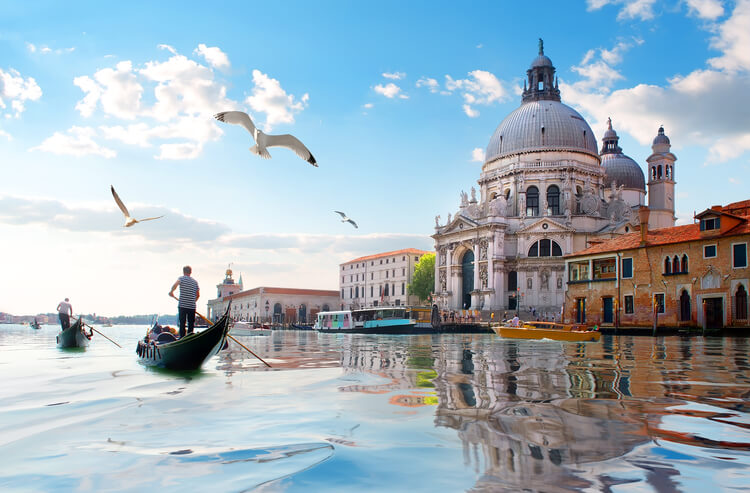 Greek romantic vacation
Indulge in the enchanting ambiance of Greece and make this Valentine's Day unforgettable with a romantic getaway. Immerse yourself in a Greek Odyssey, wandering through streets adorned with mythical gods, ancient temples, and vibrant bougainvillea. Greece offers a variety of romantic destinations for your stay. Whether you opt for the historically rich capital of Athens, the lively and picturesque Mykonos, or the breathtakingly beautiful Santorini, you are guaranteed to create lasting memories on your Valentine's Day journey.
Stunning Santorini for Valentine's Day fun
Santorini, known as the most renowned island destination in Europe for couples in love, exudes a romantic charm. With its quintessentially Greek aesthetics, the island is adorned with dazzling white buildings resembling sugar cubes, cascading across the dramatic landscape and extending towards the glistening Aegean Sea. Undoubtedly, one of Santorini's claims to fame lies in its breathtaking sunsets. For an unparalleled experience, head to the cliff-top town of Oia, widely regarded as a Greek haven for witnessing unforgettable sunset vistas. It is advisable to arrive early to secure a spot on the terrace that overlooks the sea. During the day, indulge in the offerings of one of Oia's charming romantic restaurants.
Santorini, like any other part of Greece, boasts an exceptional culinary scene. The island is particularly celebrated for its seafood, which is never fresher than when enjoyed just steps away from a fishing boat. Moreover, Santorini is renowned for its wine production. The volcanic soils prove ideal for cultivating grapes, resulting in a bountiful harvest and a wide array of delightful dry and sweet wines to sample.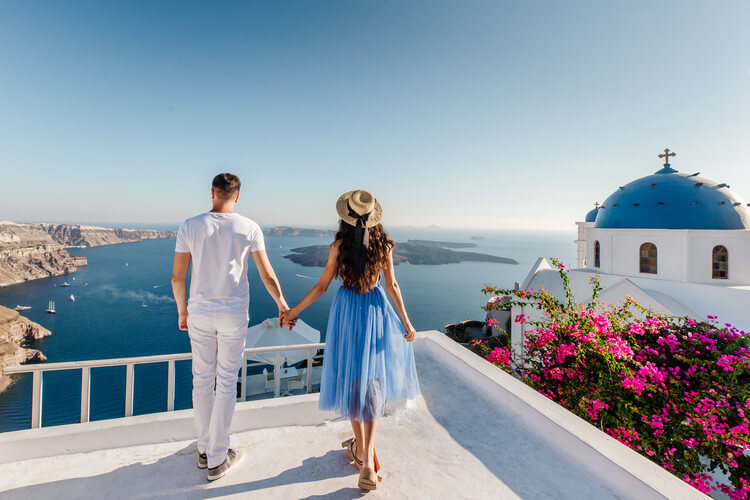 Spending a couple's vacation in a romantic Mikonos
Mykonos, a stunning Greek island, is renowned for its captivating beauty. While it has long been a favorite of young people seeking vibrant parties and idyllic beaches in Mykonos Town, it also offers numerous romantic spots for a more intimate experience.
One such place is Little Venice, located to the west of Mykonos Town. Its name, reminiscent of other enchanting European destinations, perfectly captures its allure. With its charming buildings and narrow streets hugging the water's edge, it provides a picturesque setting for a romantic stroll. Additionally, Mykonos boasts several beautiful beaches that exude romance. Notable options include Agios Stosis, Agios Stefanos, and Praga Beach.
Romantic Caribbean vacation for valentine's day vacation
The Caribbean Sea is an incredibly idyllic and romantic destination that offers a perfect setting for Valentine's Day vacations. Picture long strolls on pristine white sands, sipping cocktails beneath swaying palm trees, and dancing under a captivating blanket of twinkling stars. It's nearly impossible to single out the most romantic Caribbean island, as each one offers its own unique charm. From the laid-back luxury of the Turks and Caicos Islands to the breathtaking beaches of Antigua and the vibrant atmosphere of Jamaica, the region has something for everyone. February is the ideal time to visit, with the entire Caribbean basking in delightful weather conditions.
Among the top choices for a romantic Caribbean getaway is Barbados, known for its popularity among couples. Snorkeling, engaging in water sports, and immersing oneself in local festivals are just a few of the romantic activities available for active pairs in Barbados. For those seeking a more leisurely vacation, miles of sandy beaches await. Another highly recommended spot for a romantic holiday is Saint Lucia, with its extraordinary and lush landscape. The island boasts two peaks on Mount Piton that encircle a stunning beach and a verdant rainforest.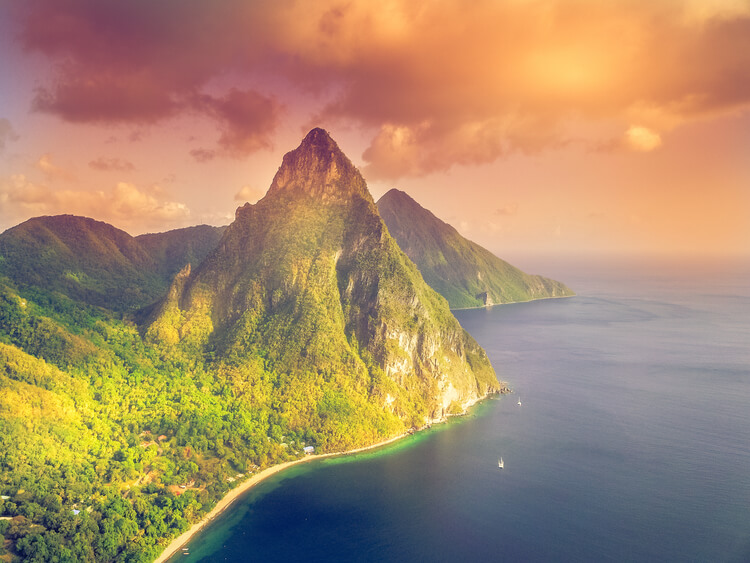 The most romantic place to visit in America
No matter what your preferred style may be, there are numerous wonderful destinations in America where you can spend a memorable Valentine's Day. Romantic getaways within the United States offer a wide range of options, including visits to national parks, exploring captivating cities, and enjoying the picturesque beaches.
Magical Monterey Valentine's Day vacation
Monterey, California offers an ideal destination for a remote and romantic getaway in the United States. Couples who enjoy outdoor activities will be smitten with this coastal city, which boasts stunning beaches, scenic hikes, and picturesque drives. One of the most recommended ways to fully appreciate the beauty of the region is by embarking on a mini-road trip along Highway 1, leading to the iconic Big Sur area. This route offers unparalleled views of the Pacific and California coasts, making it an unforgettable experience and one of the country's finest drives.
For an equally enchanting adventure, exploring the waters surrounding Monterey Bay should be at the top of your list of romantic activities. A highly recommended way to do this is by hopping on a sea kayak. Not only will this allow you to immerse yourselves in the marine environment, but it also provides an opportunity to test your teamwork skills. If you prefer a more intimate experience, there are double-seater kayaks available for you and your loved one to paddle together.
Charleston, South Carolina for Valentine's Adventure
Charleston, South Carolina is renowned as one of the most enchanting destinations for couples to unwind in the United States. With its vintage ambiance, the city exudes an air of mystery and charm, making it the perfect cozy getaway for Valentine's Day. A romantic vacation in Charleston offers a plethora of activities and sights to explore. Take a leisurely cruise on the historic Charleston Harbor aboard the Schooner Pride, a majestic sailboat that gracefully meanders through the picturesque coastal waters surrounding the city.
For an even more cherished experience, opt for a sunset or moonlit voyage. Additionally, there are numerous scenic walking trails available, such as the Morris Island Lighthouse Trail. Embark on a quarter-mile stroll to a secluded beach, where you can relish the breathtaking view of the weathered lighthouse. No romantic vacation in Charleston would be complete without indulging in the exquisite local cuisine. The city boasts a vibrant and diverse food scene, particularly renowned for its fresh seafood. Charleston is home to several exceptionally romantic restaurants that not only showcase the finest local ingredients but also embrace the rich historical backdrop of the area.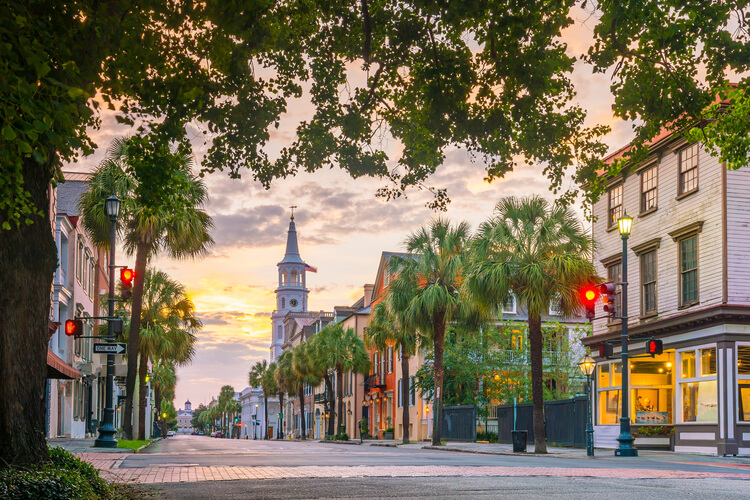 Visit San Diego for a vacation on the romantic beaches of America
Beautiful San Diego is one of America's most popular destinations for beach enthusiasts, surfing enthusiasts, and cool Southern California enthusiasts. But it's often overlooked as a great couple's vacation spot. There's a lot of romanticism in San Diego, especially for nature lovers. The waters around San Diego are home to wild whales, dolphins and other beautiful marine life. February is a great time of the year. You can also kayak with sea lions, snorkel with sharks, or take an eco-friendly boat tour to discover spectacular gray whale movements.
A romantic vacation in San Diego also includes strapping your walking boots for trails and hikes along California's beautiful coastline. Or, put on your flip-flops and explore the myriad of amazing beaches in and around the city. For more international couples, some of San Diego's most romantic places are in the city itself. Take a walk in the gardens of Balboa Park or celebrate European style in Little Italy. Take a walk on the pedestrian streets of this beautiful part of the city and savor great authentic Italian cuisine at some of San Diego's most romantic restaurants.