Resorts
Top Resorts for your next vacation in Thailand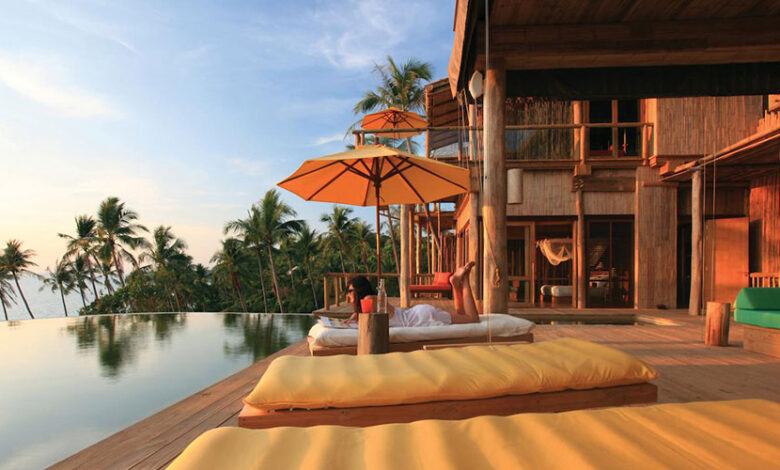 Thailand is a well-loved destination for many travelers exploring beautiful Asia. From enchanted boutique resorts in Chiang Mai's thick rainforests and buzzing luxurious city escapes in Bangkok to high-end properties with stunning views of the Andaman Sea and beyond, you will have a hard time choosing your favorite out of top notched the best luxury resorts/ hotels in Thailand. Take notes for your upcoming Thailand holiday and immerse yourself in browsing these truly unique and utterly stunning luxury resorts in Thailand!
Get ready to take your understanding of barefoot luxury to the next level! A unique Thai resort, Soneva Kiri is the ultimate island paradise for relaxing and unwinding with news and shoeless policies, a concept that is delightfully welcomed in this fast-paced world. Not only is the breathtaking natural beauty waiting for you, but also conveniently away from home via a private plane from Bangkoku to reach your luxurious yet fun home. From free ice cream and chocolate parlors to guests, to starry platforms and treetop dining experiences, Soneva Kiri guarantees that your stay will never be forgotten.
Spacious and luxurious island villas with 1 to 6 bedroom options, private infinity pool (6 bedroom pool with water slide is also available!), Mr. It comes with a dedicated private butler called / Ms. Friday, a private electronic buggy, and incredibly chic furniture.
Prices for Soneva Kiri, one of the best luxury hotels in Thailand, start at around. US $ 950 ++.
For the ultimate in luxury and privacy, one to four bedrooms (175 to 495 square meters) in 34 Catalox Skypool villas offer spacious private views of the undisturbed sea and Phuket's famous sunset views. The pool is perfect! Located on the west coast of Phuket, between Kata and Katanoi, two of the most beautiful beaches in southern Phuket. Its design blends seamlessly with its lush environment and sets an example for luxurious, modern tropical design.
Offering cutting-edge hospitality in the oceanfront clubhouse Dining on the Rocks and wine cellar, Kata Rocks is one of Phuket's finest luxury resorts with a fascinating combination of style, tranquility, Thai character hospitality, and island comfort. It is positioned as a resort.
Prices for Cata Rocks, one of the best luxury hotels in Thailand, start at around. $ 825 per night ++
Overlooking the lush forests of Kamala Village and the Andaman Sea, the gorgeous and magical Keemala Phuket, away from the crowds, offers a variety of holistic activities, healthy food and an eco-friendly hotel experience that goes beyond charm. It offers. You may have come across.
Choose a luxury vacation from 16 clay pool cottages, 7 tent pool villas, 7 tree pool houses and 8 bird's nest pool villas. All of these are inspired by the four fictional Phuket tribes and their skills and ways of life. Keemala's Enchantment Dining Options combine Eastern flavors with Western influences and are gluten-free, wheat-free, dairy-free, and sugar-free. Keemala chefs practice healthy cooking techniques and lovingly meet all needs using only organic ingredients.
Prices for Keemala Phuket, one of the best luxury hotels in Thailand, start at around. 663US $ ++ per night
One of Thailand's finest luxury hotels, Six Senses Koya Onoi has dedicated to helping people reunite with themselves, others, and their surroundings. The pioneering concept of wellness treatments is closely linked to premium hospitality services, sustainable natural architecture, and handmade experiences.
Thailand's luxury villa resort is located on a small island in Phang Nga Bay, offering stunning sea and mountain views. From Hideaway Pool Villa and Ocean Panorama Pool Villa to Beachfront Pool Villa Suite with private beach access, you can feel the brand's commitment to sustainability and focus on creating unique destinations. Don't miss the Thai cooking class at the dining room restaurant with friends, family or criminal travel partners!
Six Senses Koya Onoi is one of the best luxury hotels in Thailand and starts at around 10,000 yen. Villa $ 595 per night ++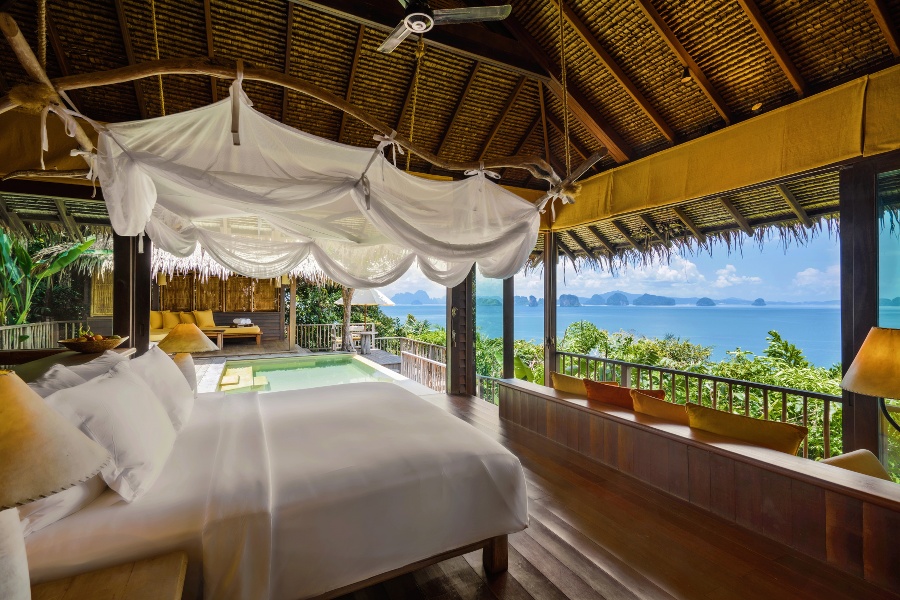 Escape to Phulay Bay, Ritz-Carlton Reserve, and dive into the local Krabi culture in a spectacular, luxurious beachfront environment. Immerse yourself in the enchanting views of the white sands and blue skies above the sparkling Andaman Sea. Leave your daily worries behind and take every day (beach) as it comes. Embark on a world-inspired journey with five world-class restaurants and a private lagoon picnic on Hong Island to unwind at the spa.
All accommodation in this luxury hotel in Krabi features a unique touch and a large cozy indoor bath, a spacious walk-in closet and a large veranda with lounge beds. Or enjoy one of the villas with its own open-air bath and private plunge pool.
The Ritz-Carlton, one of the best luxury hotels in Thailand, starts at around 10,000 yen. $ 575 per night ++
The luxury boutique hotel The Siam is located along the river, surrounded by Bangkok's historic palaces, temples and museums. Owned by passionate hotel owner Skosol and designed by world-renowned architect and designer Bill Bensley, Siam features Bangkok's most spacious suites and offers stunning views of Bangkok. One of the best luxury hotels in Thailand offers a cozy private pool villa with a roof terrace. City.
During your stay at Siam, you can choose from a variety of bespoke cultural activities. Explore Bangkok on a cruise from a private pier. Enjoy a luxurious session at their spa. Explore the lush hotel grounds, discover a treasure trove of curiosity, or unwind with a sunset cocktail at the riverfront bar.
Prices for Siam Bangkok, one of the best luxury hotels in Thailand, start at around. US $ 526 ++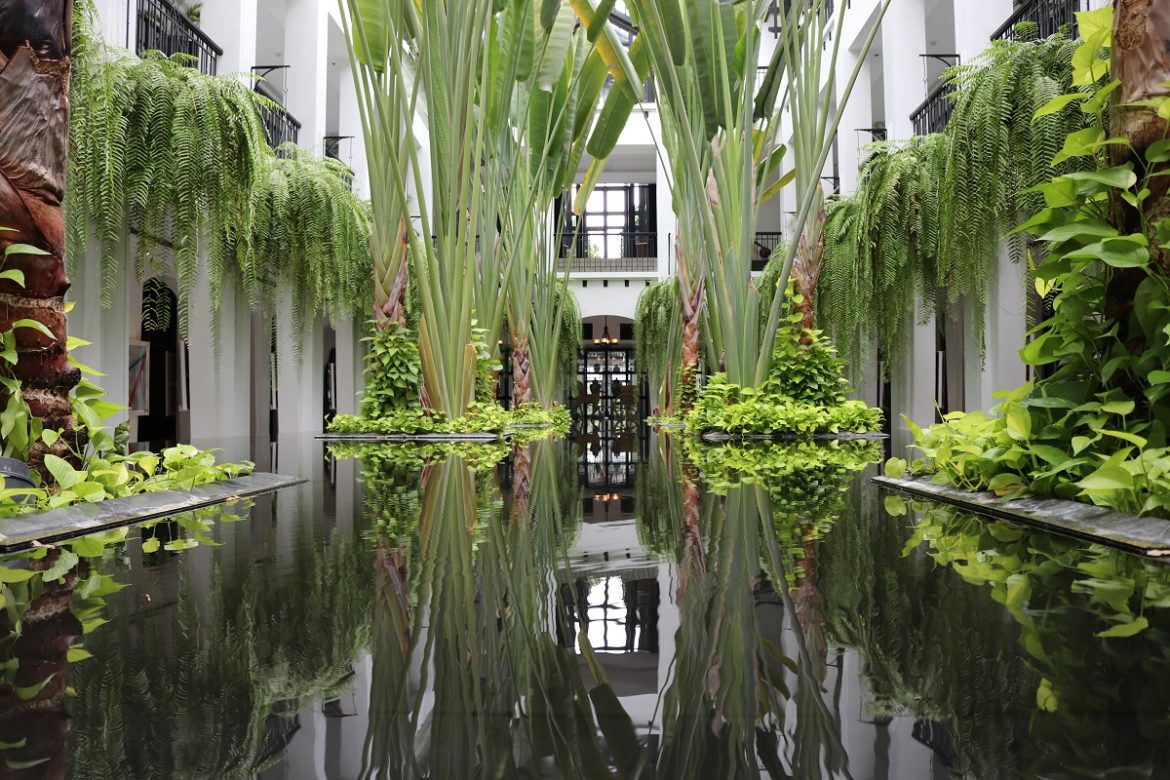 Forget about the bustling southern beaches and busy urban life of Bangkok and immerse yourself in the lush tropics of northern Thailand. One of Thailand's finest luxury hotels, Four Seasons Resort Chiang Mai overlooks the stepped rice fields of the mysterious Mae Rim Valley. Discover local Thai culture on your own terms from your own private rice terrace pavilion, your private pool villa, or the Four Seasons Residences when traveling with your loved ones.
Add Four Seasons signature services, fully relaxing treatments at the award-winning spa, and a unique experience for modern travelers. A stay in Four Seasons Chiang Mai is almost mandatory when traveling to northern Thailand.
Four Seasons Chiang Mai, one of the best luxury hotels in Thailand, starts at around 10,000 yen. $ 518 per night ++.