Rentals
15 amazing villas in Greece with a private pool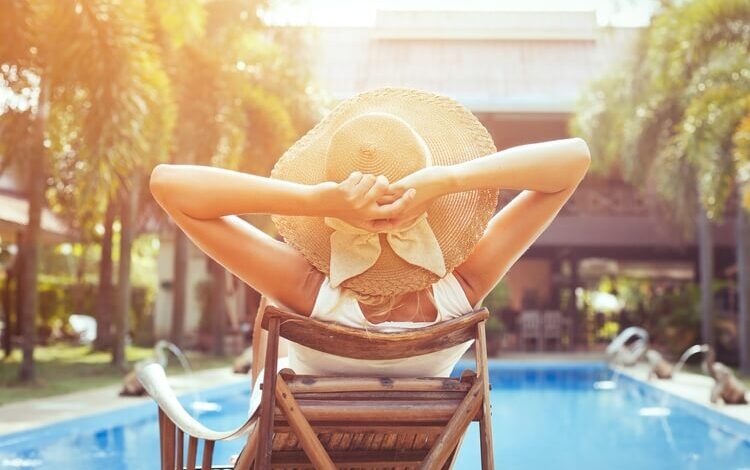 Oh, the iconic pool. It's a must when planning a vacation somewhere hot. How else are you going to cool down after the midday sun, and where are you going to float over with a cocktail? In our opinion, it is imperative to have access to a pool where you can dive whenever you want during a hot vacation.
However, there are some that are better than the old pool. And it's … your own private pool and for you to use throughout your vacation! Whether you're looking for an intimate villa for your pair only, a bigger one to accommodate all your friends, or the best property you can find, we're all Has a villa with a beautiful private pool for.
Small villa with Greek pool
If you are traveling with your partner or in a very small group, a small villa is probably what you are looking for. See our recommendations for villas with 2 or less bedrooms. However, all have their own pool.
Villa Paradiso i – 2 bedrooms, suitable for 6 people
Villa Paradiso i is a compact and lovely white villa with a clean interior from every angle. The hotel has everything you need for a great vacation, including a beautiful private pool surrounded by white pebbles, a terrace with plenty of space to relax in the sun as you leave the pool, and a bedroom with French. A door that connects directly to the pool area. Great for early morning swims and late night dips. It is also just 600 meters from the beautiful beaches of Agia Peragia, a 30-minute drive west of Heraklion on Crete.
Villa Paradiso II – 2 bedrooms, suitable for 6 people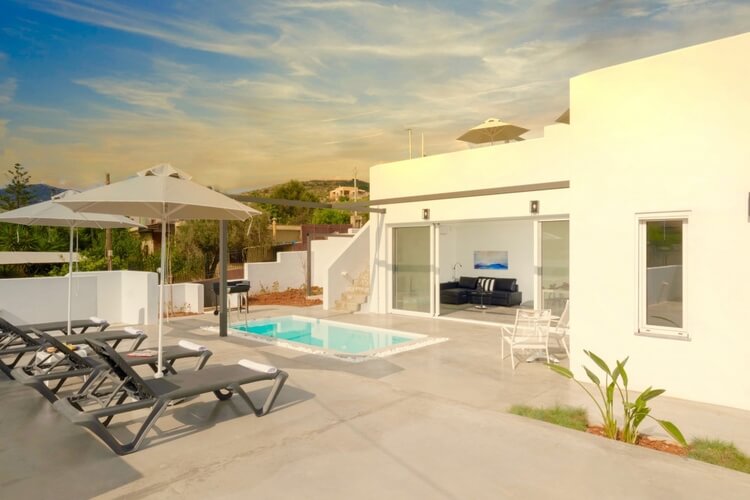 Villa Paradiso ii is similar to Villa Paradiso i, offering the same clean and sophisticated interior, bedroom leading to the terrace and views of the surrounding area leading to Agia Peragia Beach. However, this villa has a raised section next to a beautiful private pool and is full of sun loungers.
Oleas Suite 2 – 1 bedroom, for 4 people
Oleas Suite 2 is small but powerful. Located just outside Heraklion on Crete, this modern and highly stylish villa is perfect for couples and friends who enjoy a sophisticated vacation in Greece. Boasting an elegant interior with comfortable bedrooms, the real jewels of this villa are outside. Through the glass doors, step out onto the private terrace with beautiful and far-reaching views of the surrounding Greek landscape. Float in the private pool and watch the sunset as the night begins to fall over the hills.
Villa Herona – 2 bedrooms, suitable for 7 people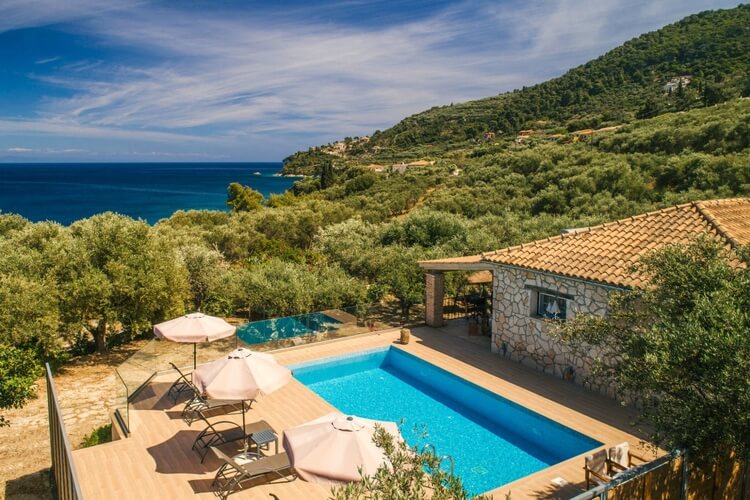 Villa Herona may have only two bedrooms, but there is plenty of space to accommodate up to 7 people. Built in a rustic stone design, the villa is located in a popular location on Malatias on Zakynthos. Boasting a large pool and a beautiful terrace with a glass-enclosed barrier, you can enjoy the privacy of your pool while enjoying the views of the countryside and the ocean. The nearest beach is 600 meters away and is perfect if you are ready to replace the freshwater in your private pool with sea waves.
Santorini-41 – 2 bedrooms, for 4 people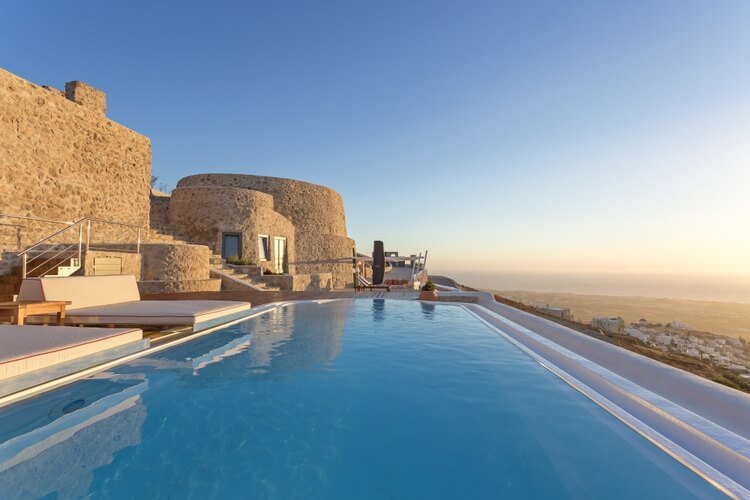 Do you dream of floating in a pool, leaning against the edge and seeing a fiery sunset covering the sky and seemingly igniting the ocean? Don't dream anymore at Santorini-41, a rustic and authentic stone villa on the famous island of Santorini. Despite having only two bedrooms, the villa has plenty of space, a covered dining area, a large infinity pool, sunbeds hanging from the water, and a breathtaking outdoor patio with stunning ocean views. there is. Santorini-41 is perfect for a relaxing vacation.
Large Greek villa with private pool
Whether traveling with the whole family or taking off to celebrate an opportunity with friends, our large villa has more than 5 bedrooms with ample space available to everyone. See our favorites below.
Villa Agricola – 5 bedrooms, suitable for 11 people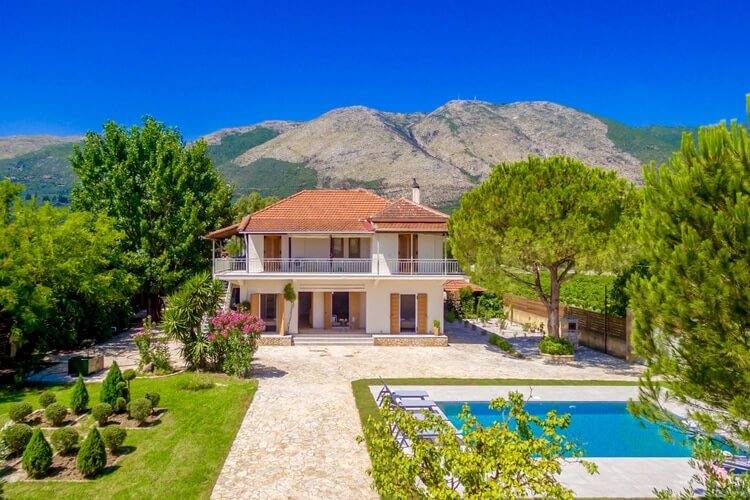 Villa Agricola is a wonderful hotel with a mountain background and a vast patio with a wraparound balcony, leaves, greenery and, of course, a swimming pool. The pool is surrounded by sun loungers, so you can relax by the water or find new places in the vast gardens. You can also cook dinner with the whole family using a large outdoor barbecue. The interior is elegant and features hardwood floors and carefully selected furniture. Located on Zakynthos Island, not far from several beaches such as Ali Kanas Beach, Paralia Psaruu and Paralia Chiribi.
Patmos 1-7 bedrooms, 16 people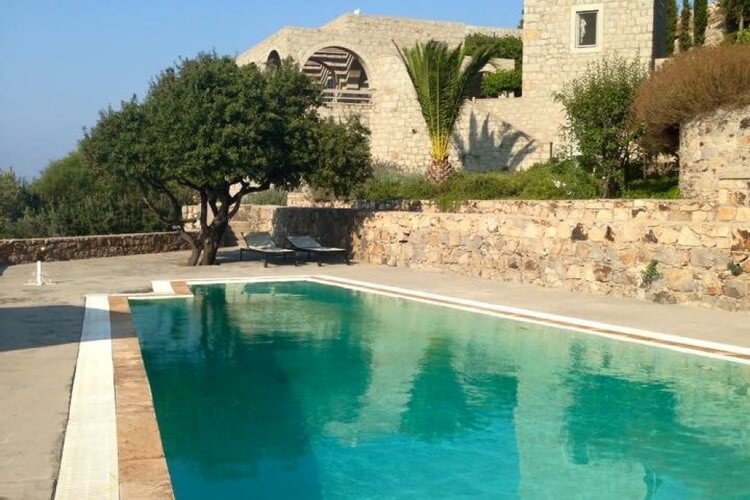 Patmos 1 is an incredibly large villa on the Greek island of Patmos. It is an absolute jewel of rustic Patmia stone architecture, including arches, vaults and arcades according to tradition. It has a beautiful terrace with ample sunbathing space and a private pool. You can enjoy the vast views from Patmos 1, the landscape of the island hills and the water that provides the beach of small pebbles. This villa is not far from other beaches such as the sandy Paralia Sapsilah.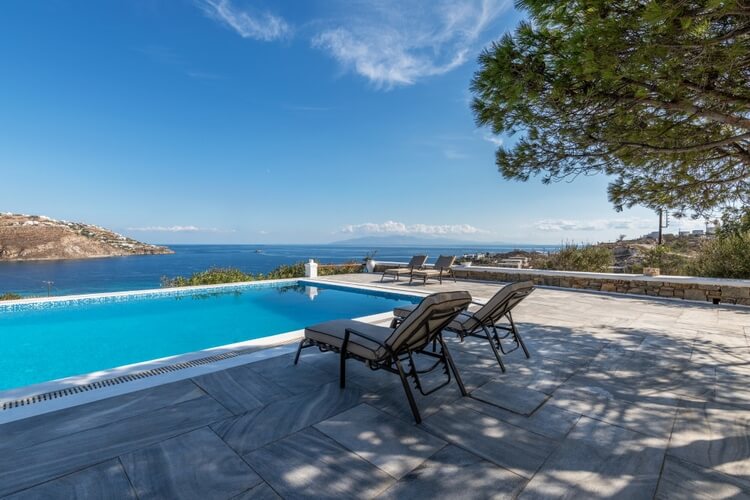 Your stay at Mykonos 5 will be a real pleasure for you and your group as a whole. It is a stunning white-walled villa in over 4000 square meters with bright blue shutters, some pergolas to protect you from the peak of the sun above the balcony and outdoor dining area, and beautiful stone pillars. The surrounding terraces are full of relaxing spots, and there is also a stunning private infinity pool with vast views of the ocean and the beachfront of Ornos. Located east of Mykonos and with easy access to several beaches. If you choose Mikonos 5 for your event or celebration, there is a terrace that can hold an event for 150 people (with permission).
Villa Peach – 6 bedrooms, suitable for 12 people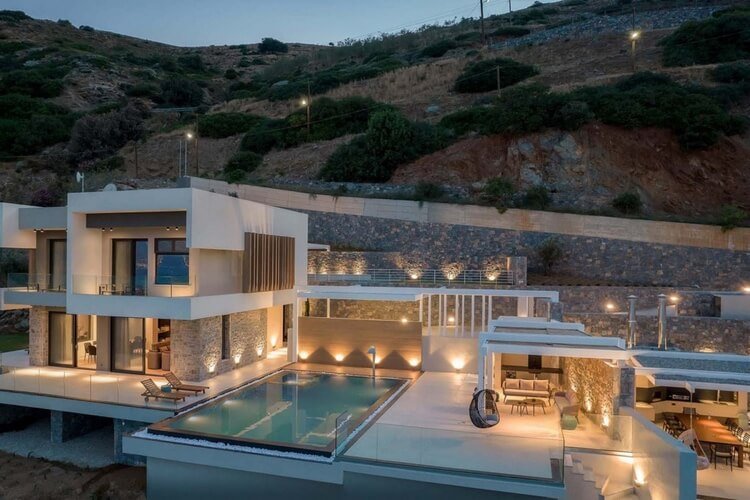 Villa Peach is an incredibly luxurious home with 6 bedrooms and 8 bathrooms that can sleep up to 12 people. Surrounded by rolling hills and along the coast of Crete, the villas are incredibly modern, with vast illuminated terraces, covered seating areas and the most beautiful private infinity pool where you can dream of drifting. There is one of. I'm embraced by the glass. The panels and decks also provide panoramic views of the ocean right next to you. The interior is beautifully designed, with warm tones and elegant furnishings throughout.
Villa Carteros – 5 bedrooms, suitable for 11 people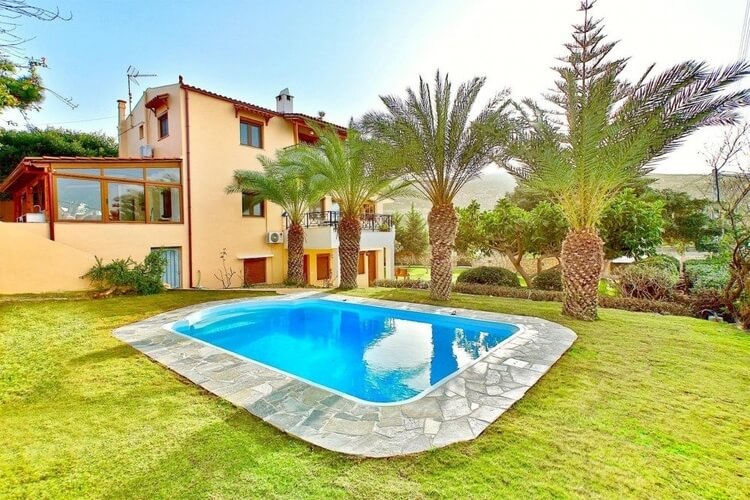 Villa Carteros is a bright orange gemstone in the rolling Greek countryside of Crete. With a vast lawn overgrown with beautiful tall palm trees, this villa has a beautiful private pool surrounded by cool lawns and offers views of the surrounding area. Enjoy the charming atmosphere or choose from many spots to relax in the sun. When you're ready to replace your private pool with a beach, the nearest pool is within walking distance. The interior of this villa is warm and cozy, with crisp white walls, orange and yellow-brown furniture and decoration, and some rooms have attractive wooden ceilings.
Luxurious Greek villa with pool
For those looking for something special when looking for a Greek villa with a private pool, don't worry-we cover that too. For the ultimate luxury and magnificent interior, see some of the most luxurious villas offered in Greece. All have a magnificent private pool.
Villa Golden Crest – 3 bedrooms, suitable for 6 people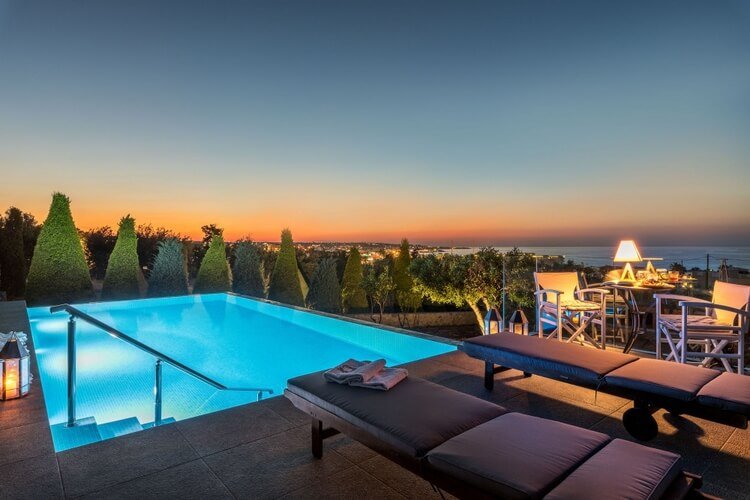 Villa Golden Crest, a beautifully built villa with rolling lawns, is simply spectacular. Surrounded by tall trees, the villa has a covered outdoor dining space swirling with white curtains. The decoration is the perfect combination of rustic Greek life and modern comfort, with careful attention to detail and antique pieces throughout. The pool is bright and clear, extending beyond the garden and offers beautiful, distant views of the distant illuminated land and the nearby sea. This villa is located on the popular island of Crete, near Helsonisos and is well equipped.
Villa Cabo Mare Mertemi – 3 bedrooms, suitable for 6 people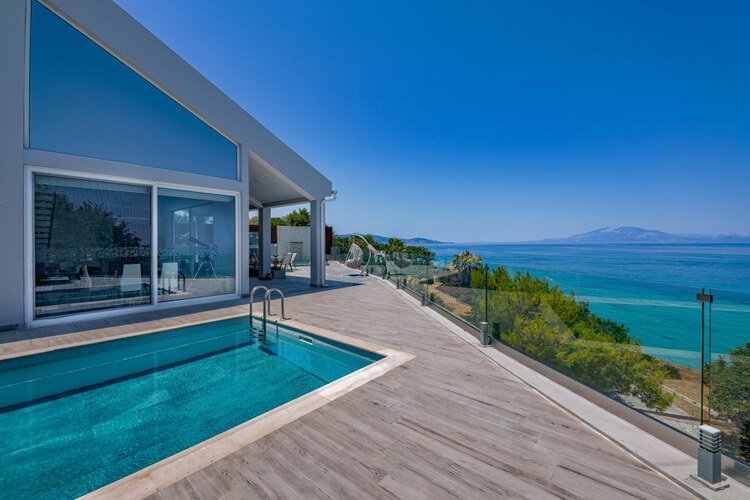 Villa Cabo Mare Mertemi is a truly amazing hotel and one of our favorites on Zakynthos. The interior is decadent, reminiscent of Hollywood charm, and is expected to be a summer hangout for celebrities. But the outside is the true jewel of the property. Featuring a vast patio with a stunning swimming pool and waterfall jacuzzi, enjoy the night atmosphere and enjoy a truly fascinating aesthetic. The property is surrounded by a glass barrier and offers stunning views of the Ionian Sea and the islands beyond.
Villa Plaka Siren – 3 bedrooms, suitable for 7 people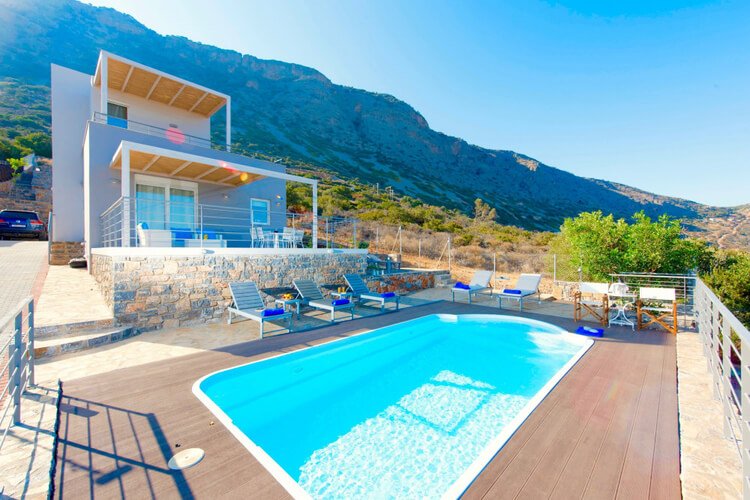 Villa Praka Siren is a modern and beautifully designed villa in a special location with stunning mountain backgrounds, a vast ocean in front and just 600 meters to the beach. The exterior has plenty of space to dine and offers stunning views of the surrounding area. The private pool is built into the property's deck and is surrounded by sun loungers. The interior is warm and cozy, and the whole thing is attentive, so you can feel comfortable from the moment you arrive. The villa is located on Pracaerounda on Crete and overlooks the magnificent Spinalonga Island in the distance.
Villa Rigalia – 3 bedrooms, suitable for 5 people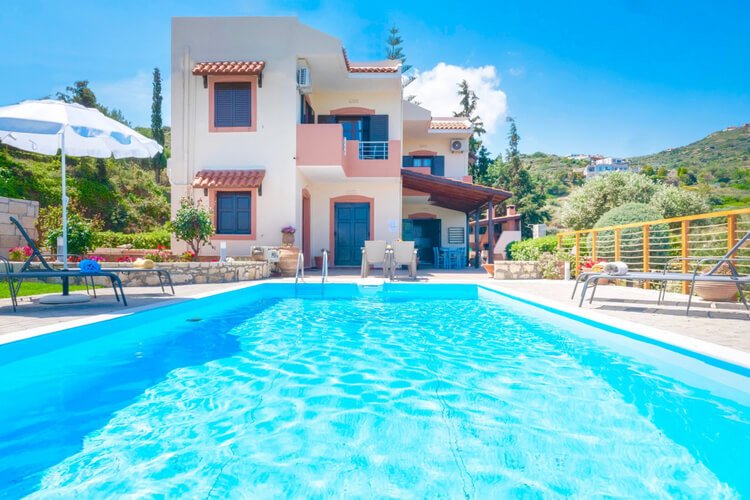 The picturesque and breathtaking Villa Rigalia is perfect if you are looking for a beautiful villa with a private pool. Painted in white and pink, which stands out against the fiery blue of the Greek sky, the villa has a balcony, a covered dining area and, of course, a large, vibrant pool. The property's gardens are built on two levels, so when you're away from the property, you'll enjoy stunning sea views on the beaches of Rigalia on Crete, just 100 meters from the property.
Duchess of Villa – 7 bedrooms, suitable for 11 people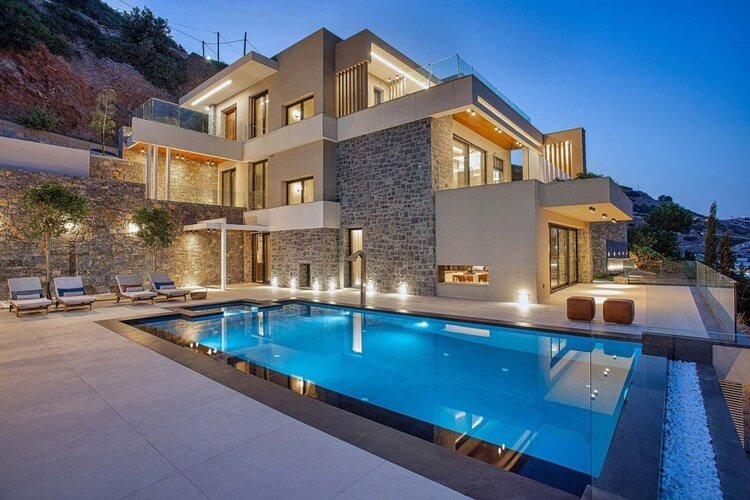 It will be difficult to find a villa as luxurious and luxurious as the Duchess of Villa. Located on a hill overlooking the sea, the villa looks like it was designed for rock stars. There is a large outdoor area with attractive lighting, incredible interiors, a stunning barbecue area, covered dining, and sofas surrounding a luxurious fire pit. , Incredible pool. There are few words to describe a pool like the Duchess of Villa. Illuminated at night, the glass panels surrounding the property remain open to the end, so you'll feel like you can go out into the ocean and swim further in the moonlight. The ultimate luxury and decadent Villa Duchess offers your wildest dream pool.
Still looking for a Greek holiday villa with a private pool?
We hope you find the perfect property to fulfill your sunny poolside dream. But don't worry if you don't mind anything above. There are many villas in Greece that offer private pools. Click below to explore the full range of Greek villas with private pools, from large family pools with separate shallow sections for small children to the most luxurious infinity pools you can imagine.